After a flood, whether it's from a burst pipe in your Philadelphia warehouse, or a washing machine hose burst in your Cherry Hill home that happened when you weren't there, or a flood affecting your entire neighborhood in Hamilton, you know that you need to take care of it fast.
But, you may find yourself wondering how much help you really need. After all, it's just water, right? And, you have a shop vac that can do the job, right?
The temptation in our "do it yourself" culture is to minimize the need for professional help in order to save a few bucks. But that might just put you, your family and your business at risk.
So, here are 9 top reasons to get your home or business dried professionally:
1. Water is heavy! One gallon of clean water weighs 8.34 pounds.
And, in a flood damage situation, the hundreds of gallons of water invading your property likely contains contaminants. That makes it even heavier. Once you've filled your shop vac with 3-5 gallons of dirty water, you have to get rid of it. Now imagine lifting and carrying that water-filled bucket weighing 25 to 42 pounds up your basement stairs. Repeatedly. That can cause a major stress to your body in an already stressful time. So, one of the best reasons to get your home or business dried professionally is to save your back!
2. Flood Water Contains Contaminants!
Over the ground flooding from storms carries with it a number of biological contaminants. And, you really don't want to expose yourself to these without the proper personal protective equipment.
So your water damage didn't come from outside? Remember, even water damage from a clean source contains contaminants if it filtered through building materials. If you try taking care of the damage yourself, you won't know what risks lurk in the water.
3. What Looks Dry Usually Isn't!
Water always takes the path of least resistance, flowing to the lowest point on your property. Even so, you can't always know where moisture will hide. Cracks and crevices, cavities in walls and above ceilings, layers of flooring, and all other sorts of places hide water. However, without proper training, without meters to measure the moisture or infra-red cameras, you won't be able to find all the places water lingers.
So another reason to hire a professional service to get your home or business dried professionally is because we locate all the hidden water damage – before it becomes a health threat.

4. The biggest health threat after water damage is mold and bacterial growth.
While your home or business will eventually dry out, moisture left inside the walls or under floors starts to grow mold in as little as 24 hours. And mold can damage your family's or employee's health for a very long time.
The threat is real! Mold exposure has been linked to:
So don't chance it! Prevent mold and bacterial growth in your Greater Philadelphia region home or business with professional drying.
5. Our Professional Drying Service Salvages Your Precious Possessions!
Materials and furniture exposed to flood water must be carefully evaluated. If you try to do this on your own, you may discard things that could be saved. Conversely, you may save things that absolutely must be discarded. Part of any professional water damage restoration process is evaluating your possessions. And we explain what's safe to keep and what you need to discard.
And, for the contaminated items being disposed, we haul it away for you as part of the restoration service!
6. We inventory and photograph the extent of the damage!
We separate damaged items into categories of non-salvageable, salvageable, and questionable items. And, if need be, we pack-out and store your precious belongings for you to clean off-site until the water damage restoration is complete. Because we follow the IICRC best practices for water damage restoration, we keep costs down and salvage as much as possible.
7. Professional drying uses better equipment!
There's nothing that you can rent from your local hardware store or borrow from your friend down the street that dries out your home or business like the equipment we have.
In a water damage emergency, you need industrial strength fans and dehumidifiers, placed in a very specific pattern for the most efficient drying environment.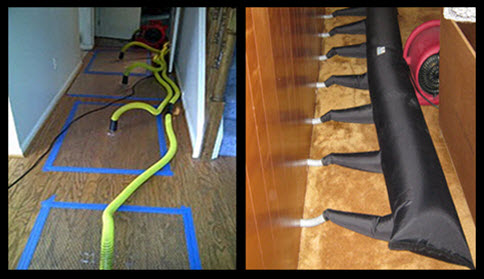 8. Our Water Damage Restoration Professionals Have Done This Before.
For most people, flood or water damage is a once-in-a-lifetime event.
Because of that, we know how devastating it is to see your office disrupted or your family's possessions soaked and scattered.
But we do this work every day. We know how to make a difficult time easier for you. Our professional moisture removal methods work. We can replace do-it-yourself guesswork with our proven experience of years in the business.
9. We know how to work with your insurance company!
We use the latest water damage restoration estimating technology. That means we understand their language, and communicate with them to help resolve your insurance claim fast. If you're a "do it your selfer," this might be the best reason to get your property dried professionally.
So you see, when water damages homes and businesses, whether it's from storm damage, over the ground floods, or leaking pipes, the time to act is now.
So What Should You Look For In A Professional Water Damage Restoration Company?
• First, look for industry experience and leadership.
• Next, look for a reputation of professionalism and customer service
• Then, check to make sure they offer 24/7 emergency services.
• Finally, check to make sure you hire a company with IICRC certified technicians, with the knowledge, training and experience to get your property dry fast.
Hiring a professional could be the best thing you do for your home and your family following a flood!
Ready to hire a professional to help with your water damage repair? Contact us today to learn how we can fix up your water damage and get your home looking like new again. If you have questions, we've provided answers here in our post "The 18 Most Frequently Asked Questions About Water Damage."
Remember, PuroClean Emergency Recovery Services is here to help.
We provide water removal and water restoration, and many other restoration services.
Call us at 877-750-7876 anytime, 24/7.
We've served residential and commercial clients in all parts of Philadelphia, Bristol, Bensalem, Elkins Park, Ambler, Oxford Valley, and Levittown, Pennsylvania as well as many towns in New Jersey like Burlington, Cherry Hill, Marlton, Mt. Laurel, Moorestown, Hamilton, Mt. Holly, Delran, Beverly, Willingboro, Gloucester Township, Westampton, Springfield, Voorhees, and even at the Jersey Shore!