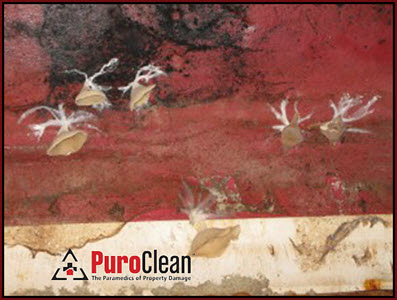 WARNING: DO NOT USE CHLORINE BLEACH TO CLEAN OR KILL TOXIC MOLD
Whether it's found in a home or a commercial building, mold can cause serious health problems. Don't make matters worse by trying to clean toxic mold with bleach.
Chlorine Bleach kills bacteria and viruses, but has not been proven effective in killing molds on porous surfaces like wood and drywall.
Bleach is 94% water.  Water is one of the main contributors of the growth of harmful bacteria and mold.  Attempts to remediate toxic mold using bleach only re-grow and regenerate mold and bacteria at twice the rate originally found before bleaching.      
OSHA's Mold Remediation guidelines state chlorine bleach should not be used in mold removal.
PuroClean Emergency Recovery Services Mold Remediation Protocol adheres to the standards for mold removal recommended in:
With this extensive training, knowledge and experience, you can be sure when you hire us to deal with toxic mold you'll be in good hands!
Here are the 4 Steps that *must* be taken to deal with toxic mold:
Step 1: First Identify The Water Source!
The first step in any toxic mold remediation project, and the most crucial step, is finding the underlying water or moisture situation. Mold is always related to water. Therefore, a search for mold will always begin by using professional meters and expertise to look for unwanted water under cabinets or inside walls. Why? Because no matter what we do, if the source of the water or moisture problem isn't fixed first, then the toxic mold will return!
Step 2: Next, Inform Property Owner!
We inform the property owner of our findings from the inspection. We offer you the opportunity to consult with a third-party, qualified Indoor Environmental Professional (IEP). An IEP helps evaluate the extent of the problem and writes the remediation protocol. Because it's impossible to determine the type of mold by looking at it, an indoor air quality test identifies the type, species, and extent of mold infestation. This step is crucial if someone wants to know the specific molds present for health reasons. However, the EPA and NYC standards for mold removal allow our company to deal with small areas of visible mold without the necessity of requiring an IEP. When the area of visible mold is larger, then we do require an IEP to be involved in the process.
Step 3: Now It's Time To Remove the Mold!
We treat every mold contamination situation as a serious matter. Remediation efforts are the same, regardless of the type of mold involved. As professionals, we treat all mold as hazardous, so our procedures, processes, and safety precautions are the same for every project. The object of mold remediation is threefold. First, kill the toxic mold at its "roots." Second, safely remove contaminated materials. And third, protect the health of your family or employees while we work. Therefore, effective mold remediation disinfects porous wood and drywall while monitoring the safety of indoor air quality. We do this by providing containment and creating a negative air flow. This prevents cross-contamination with other areas of the home or commercial building.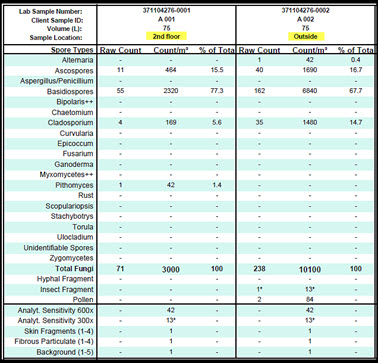 Step 4: Getting A Clearance Test!
At the end of every mold remediation, we strongly suggest that our customers get an air sample test. PuroClean Emergency Recovery Services does not do testing. It's best if the test is conducted by an independent third-party qualified mold testing company, and sent to a laboratory for analysis. This step checks our work to make sure the mold has indeed been removed. And, it makes sure the customer got what they paid for when they hired us to do professional mold removal!
How do you know the mold has been removed? Look at the air sample test results. If the sample taken indoors has fewer spores than the outdoor sample, our work is done!
There is no living environment that is ever completely mold free. Why? Because we live in an interactive world, the "outside" comes inside every time we open the door. And molds are everywhere! Therefore, the fact that spore counts in our remediation area are less than the outside indicates that the mold removal was successful.