[vc_row][vc_column width="1/3″][vc_column_text]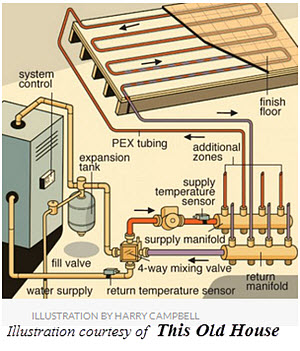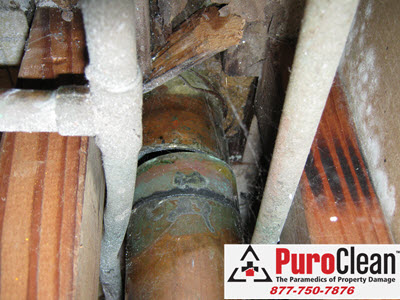 [/vc_column_text][/vc_column][vc_column width="2/3″][vc_column_text]In the fall of '51, Levitt opened his first model house, a rancher he called the "Levittowner." It came with radiant heat, a roofed carport, a Bendix washer and General Electric stove. There was no basement and no second story.
Levitt was the first large-scale builder to construct houses on radiantly heated cement slabs.  Levitt estimated he saved consumers $1,000 per dwelling by foregoing a dug-out basement. In addition to the savings, the radiant heating systems provided the other advantages including comfort, efficiency, and health benefits over forced air systems.
This building practice caught on. By 1952, 25% of all new houses were constructed on a concrete slab. So, Levittown's sister city Willingboro was constructed in the same manner.
The problem is that after over 50 years of use, the original piping installed by the builders has corroded. And once corroded, the pipes have a greater chance of bursting. So the radiant heating system is a common source of many Levittown water damage woes.
But how do you know if the copper pipes in your radiant heating system failed?
Here are your signs:
1. Flooded kitchens and soaked bedroom carpets
2. Cold spots on the floor
3. The sound of a boiler or water running constantly
4. When the water bill comes in at the end of the month and the charge for water use has skyrocketed
5.  A mushy wet spot on the lawn, even in dry weather
6. Mold growth on the walls or a musty odor that returns even after cleaning. This is caused when water from the floor wicks up the drywall.
[/vc_column_text][/vc_column][/vc_row][vc_row][vc_column][vc_column_text]
What to do about Levittown water damage:
If you notice any of the occurrences in your Levittown home your first step is to stem the tide of the damage. To do that, you will need to turn the water off at the main.
In most Levittown homes, the shutoff valve is located under the kitchen sink.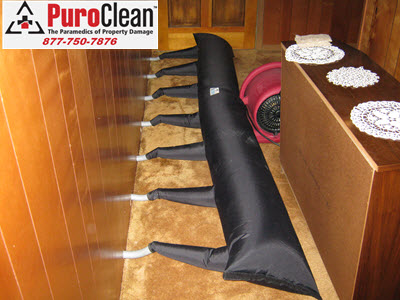 Next, you want to minimize the loss by remediating the water damage fast. That means calling us so we can get your property clean, dry and sanitized quickly so no mold will grow.
Remember: concrete takes special meters to measure the moisture to assure it's dry.
You can trust our staff to provide you with the restoration services you need to salvage and restore your home or business in Levittown. We have the meters to measure the moisture and the equipment to master any size water disaster.
If you suffer from water damage in your Levittown home, whether it's from storm damage, a burst pipe, a toilet overflow or leaking radiant heat system, we're here for you 24 hours a day, 7 days a week at 877-750-7876
Save[/vc_column_text][/vc_column][/vc_row][vc_row][vc_column][vc_column_text]
Save[/vc_column_text][/vc_column][/vc_row]