[vc_row][vc_column width="1/3″][vc_column_text]
For these homeowners, the weight of the snow and ice was just too much for their roof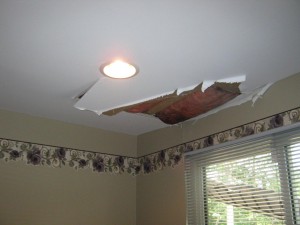 [/vc_column_text][/vc_column][vc_column width="2/3″][vc_column_text]The Polar Vortex is set to return to our region today – and it's bringing lots of snow with it this time. When I heard the reports coming in over the weekend, it reminded me of a poem my grandmother used to recite every winter:
"The north wind doth blow,
And we shall have snow,
And what will poor robin do then?
He'll hide in a barn,
And keep himself warm,
And hide him head under him wing,
Poor thing!"
The problem for us humans is, we can't hide in a barn – and ice and snow can bring with it all sorts of winter water damage – both inside and out!
Statistics gathered by the Insurance Information Institute suggest that property damage from water and freezing are the second most frequent cause of damage, coming in just below wind and hail as the most commonly reported homeowner's insurance claim. So, once the snow stops, bundle up because it's time to do your rounds.
Look for leaks in your roof, damaged walls, and broken windows.
All that snow outside that melts and re-freezes can form a blockage, preventing water from properly running off of your roof, and leaving it nowhere to go but inside your home. This is called an ice dam.
In addition, the weight of the ice and snow on your roof can get to be too heavy, causing structural damage to your home.
Usually this is a problem with flat roofs on older buildings.
But, other damage like blistering, bruising, and splitting can happen on your roof shingles – even on newer homes!
And, winter storm damage to your roof outside can mean water damage inside your home – damaging walls and ceilings.
The second kind of water damage associated with winter freezing temperatures: burst pipes!
In a previous post, we discussed how to prevent frozen and burst pipes.
But if you didn't get this information quickly enough, here's what to do if you discover frozen or burst pipes now:
• If your pipes are already frozen, don't wait for them to burst! Take measures to thaw them immediately with a hair dryer, or call a plumber for assistance. But be careful: don't stand in water with an electrical appliance!
• If your pipes have already burst, first turn off the water at the main before trying to mop up. Then call PuroClean Emergency Recovery Services 877-750-7876 Avoid potential mold growth! Don't wait to get your property dry.

• Call your insurance agent as soon as you can. An insurance adjuster doesn't need to see the damage; however, they will want to inspect any damaged items. Make a list of the damaged articles, and take pictures!
• Protect your property from further damage. Remove any carpet, carpet pad or furniture so that no additional damage will occur. If this is not possible, put pieces of tin foil under the furniture to protect it from damage from the soaked carpet and pad.
• Save the receipts for what you spend—including additional living expenses if you must leave your home until repairs are completed—and submit them to your insurance company for reimbursement.
[/vc_column_text][/vc_column][/vc_row][vc_row][vc_column][vc_column_text]Standard homeowners policies or business property and casualty policies will cover most of the kinds of water damage that result from a snow storm or deep freeze.
At PuroClean Emergency Recovery Services, we are always happy to work with your insurance company.
We know that working with your property and casualty insurance company is important, and we pride ourselves in open communication – both with you and the insurance adjuster throughout the process.
For water damage from any source we are open 24 hours a day, 7 days a week, 365 days a year and are always available for emergency response at 877-750-7876.
[/vc_column_text][/vc_column][/vc_row]