Since the beginning of the year, we have been helping homeowners, property managers, store managers and business owners in the Greater Philadelphia and Southern New Jersey region recover from this winter's "burst pipe apocalypse" and resulting water damage.
                                   This video is one store's story: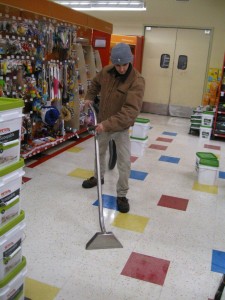 And, we're not alone!
In today's New York Times, one of the top stories was about frozen and burst pipe crisis occurring across the United States. The New York Times reports: "In Baltimore, 353 water mains ruptured in January . . . A 137-year-old main that popped in Lower Manhattan turned some of the most stylish streets in Greenwich Village into a temporary Venice, and a break in Boston's Chinatown nearly swallowed a public works truck."
And that's a LOT of water!
As a business owner, property manager or store manager, the most important thing to remember is to have a plan.
Because, the fact of the matter is, 50% of businesses that experience a catastrophic loss like a flood from burst pipes or a fire never re-open for business. Businesses that have a disaster preparedness plan in place — and implement it — typically have less damage, loss and downtime than those that do not.


But usually, no one plans for a disaster! So it's important to know who you can call locally – and keep those numbers programmed into your cell phone – before the pipe breaks and the building floods!
Along with "911", if you're a business owner, store manager, or property manager you need to have a plumber's number and our number 877-750-7876 at your finger tips. Because when pipes burst and rivers flood, the water waits for no man . . . or woman!
We're the ones you can count on in your time of need. 24 hours a day, 7 days a week!
Once the water is turned off, pumped out, and extracted it must be sanitized with anti-microbial solution and dried before bacteria and mold can grow.
The store managers in the video and the other pictures had very little loss of property or "down-time" doing business because they knew who to call – and had our number programmed into their cell phones.
We were able to get them clean, dry, and sanitized so they could get back to doing what they love – running their businesses![/one_half_last]
So, if you own your own business, or manage the property for a business, please think of giving us a call to help you write your Emergency Preparedness Plan now – before the next disaster hits our area! 

877-750-7876
PuroClean Emergency Recovery Services

– Your partners in preparedness planning!