The year literally started off with a bang . . . and several floods for families and businesses across our region as we were visited by the Polar Vortex beginning January 4th and lasting to the end of February!
We now respectfully call that time of year "The Frozen Pipe Apocalypse of 2014."




Homeowners and business owners across our Greater Philadelphia and Southern New Jersey weren't ready for the piercing cold since it's been so long since we've had that kind of weather in our region.
We're so proud of our crews who worked 7 days a week, 24 hours a day for almost 2 months to help as many people as we could to control the damage from so much water – getting them clean, dry and sanitized fast so no mold could grow!
However, perhaps our proudest moments of 2014 came a few months later. . .
PuroClean Emergency Recovery Services has specialized in compassionate hoarding cleanup for children and families of hoarders in the Delaware Valley region for several years.
In March, our PuroClean Emergency Recovery Services received national coverage for our work helping the family of a hoarder in Philadelphia come clean when it was featured on TLC's "Hoarding: Buried Alive: How Dire The Situation Is"
Our story was broadcast over all the social media channels. Then, in May of this year, we received national attention again when Restoration & Remediation magazine picked up the story and featured our work on the front cover of their publication.

A few months later, in the early morning hours of July 23, smoke began to billow from a downtown Philadelphia Hotel, causing officials to evacuate over 1,000 guests from its 26 stories and 757 rooms for precautionary purposes. The property manager needed an immediate response to clear the fire and smoke damage and return the hotel to use for a convention that was scheduled later that week.
PuroClean Emergency Recovery Services crews worked in a two-shift system, with one team cleaning from the morning and into the afternoon and a second team starting in the afternoon and going into the evening.
In all, we cleaned the carpet and hallways on all 26 floors of the facility, while restoring the four-story atrium and the hotel's 120,000 square-foot ballroom (including 2,200 chairs) within a week-and-a-half which meant there was no "down-time" for the hotel. And the convention that was scheduled? Yeah, it went off without a hitch!
We broadcast the story on all the social media channels and R&R Magazine gave our work national coverage – for the second time this year.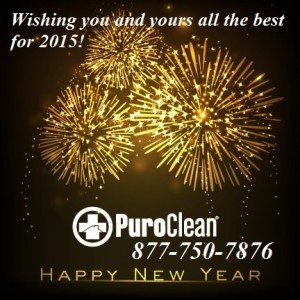 And so, as the New Year approaches, we're taking time to express our gratitude to everyone who has made our progress possible: our customers, agents referral partners and our most excellent crew.
There is no more fitting time to say:
Thank You for choosing PuroClean Emergency Recovery Services for all your property damage restoration needs!