When you find mold in your Philadelphia, PA or Willingboro, NJ home or business, don't just paint or wall paper over it! Even if you use "mold inhibiting" products, they won't stop mold if it's actively growing. You must remove the mold before you apply a finish, or you'll create a world of hurt for yourself down the road!
So, when you want to clean the mold yourself, use our 5 mold cleaning tips from the pros.
Tip #1:
First, ask yourself what caused the mold. Because mold can't grow without moisture coming from somewhere, along with an organic source of nutrients, find the source and fix it before you try to clean the mold. If you don't, the mold will only return and you'll find you've wasted precious time and energy. 
We've written several posts about types of water damage that cause mold in your bathroom, your kitchen, your basement and your attic. So read those posts first to help you identify and eliminate the moisture source.
Tip #2:
Next, ask yourself if it's a problem that needs a professional.  Depending on the type of water that caused the mold, you may be able to clean it yourself.
There are 2 types of mold growth from water damage that always require professional attention:
1. over the ground flooding; and
2. sewage backups.
In this case, always contact a professional.
Why?
Because both of these kinds of water damage are classified as category 3 water damage, the nastiest kind. This kind of water is contaminated with God only knows what.
Next, evaluate the project. There are 3 conditions your project needs to meet before you try our mold cleaning tips.
First, did the moisture problem causing the mold come from a clean water source like a leaking pipe or condensation on your window sill? Then it's safe for you to clean yourself.
Second, is the mold you're cleaning limited to less than 10 square feet? If it is, then it's probably okay for you to clean yourself.
Third, make sure the mold is only growing on the surface. If the drywall is soaked through and crumbling, don't try to clean it. It won't dry fast enough. You'll need to remove and replace it.
And finally, there's one other caveat:  if you are one of the 25% of the population that's mold sensitized, it's always best to hire a professional to take care of the problem so you don't get sick.
Tip #3:
Once you've answered those questions in the affirmative, it's time to clean the mold.  You'll need some supplies. 
Purchase an antimicrobial solution from your local hardware store. As we've stated over and over again on our site, don't use bleach!  There are so many great antimicrobial products out there that are less toxic and more effective at preventing the mold's return.  Next, grab some gloves and some old rags, and a scrub brush.
Tip #4:
If you're cleaning the mold yourself, don't spray it!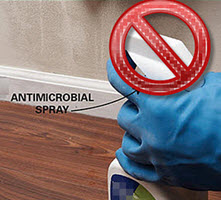 Spraying a patch of mold with any kind of liquid only releases more mold spores in the air. And, since you're using our mold cleaning tips to clean the mold yourself, you probably don't have access to professional air filtration devices to remove spores in the air. So spraying a moldy patch will only spread spores to other areas of your home or office.
Here are the 4 steps to take to safely remove the mold yourself:
First, take your rag and apply the antimicrobial solution to the rag.
Now, gently wipe the area with the solution-dampened rag.
Then, get your scrub brush. Use the brush to scrub the area you just dampened with the antimicrobial solution.
After that, take your solution-soaked rag and wipe the area again.
Tip #5:
Allow the area to dry completely. This is especially important if you're removing mold from inside kitchen or bathroom cabinets. Keep the doors open to ventilate the area. This may take 24 hours or longer, depending on the relative humidity in the air.
Once the area is clean and dry, you're ready to paint or finish the area however you'd like.
By using these 5 mold cleaning tips you'll keep your home or business safe.
But for questions about mold, or a mold evaluation in Philadelphia, Willingboro and beyond, give us a call at 877-750-7876. We'll be glad to answer any questions you might have!