It's that time of year again . . .
The turkey's all gone (or at least it's leftovers now) and folks are ready to start decorating for the Big 3: Hanukkah, Christmas, and Kwanza. So now it's time for a little "brush up" on holiday fire safety tips before the big 3 arrive with our

12 Days of Holiday Fire Safety Tips:
Day 1

Use wooden or fiberglass ladders when decorating outdoors. Metal ladders conduct electricity and could cause a nasty shock or spark an electrical fire!

Day 2

When decorating outside, use caution near power lines. Keep yourself and your decorations at least 10 feet from power lines. Take care not to attach the lights in a way that could damage the cord's insulation (e.g., with a staple gun). Place spotlights used to illuminate decorations in well-ventilated areas, protected from weather, and placed a safe distance from flammable items. And, if we should be so lucky to have a White Christmas, remember to keep all extension cords and light strings clear of snow and standing water.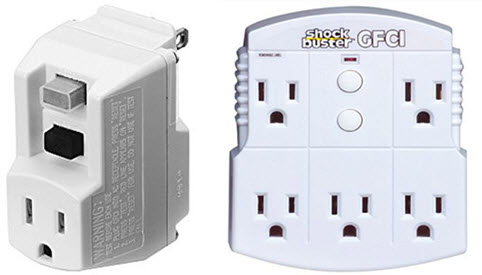 Day 3

Use extension cords wisely. Make sure all extension cords and electrical decorations used for outdoor decorating are marked "for outdoor use," and inspect them for cracks before you use them. Outdoor electric lights and decorations should be plugged into circuits protected by ground fault circuit interrupters (GFCIs). If circuits are not GFCI-protected, consider getting an electrician to install them for you. But, in a pinch, portable outdoor GFCIs can be purchased where electrical supplies are sold and require no special knowledge or equipment to install!

Day 4

Use lights and extension cords approved for safe use by a nationally recognized testing laboratory like Underwriters Laboratories (UL), ETL-SEMKO (ETL) or Canadian Standards Association (CSA). And never connect more than three strands of incandescent lights together!
This year, you might want to consider purchasing LED lights – they use less energy and run cooler than traditional incandescent lights. And, make sure you turn off all indoor and outdoor electrical decorations before leaving home or going to sleep.

Day 5

Water Fresh Trees Daily! When it's time to trim the tree and you decide to use a fresh one, make sure to keep the base of the trunk in water at all times. And keep your fresh tree or holiday decorations away from ignition sources like space heaters, fire places or candles.

With that little holiday nip in the air, space heaters help to keep things warm and cozy inside. But . . . make sure to give space heaters space! Remember to keep them at least 3 feet away from anything like curtains, upholstery or holiday decorations that could ignite.

Day 8

Keep family members who smoke outside when they light up! Careless smoking is still the leading cause of fatal fires, so ask your family members who smoke to make sure their cigarette butts are extinguished in water or sand-filled ashtrays before returning to the festivities inside.

Day 9

Whether it's Hanukah, Kwanza, or Christmas you celebrate, candles are part of the celebration that help to keep the season bright. Remember: When you go out, blow out! Candle fires are second only to cooking for causing fires during the holidays. Keep candles away from kids, pets, and anything that can burn like curtains and furniture.

Day 10

There's more to responsible drinking than calling a cab to take your tipsy guests home after a party! With all the festive cheer this time of year, keep a close eye on anyone attempting to cook or smoke while under the influence of alcohol. Unfortunately, alcohol is a common causative factor in many holiday accidents and fires.

Day 11

Watch what you heat! The holiday season is one of the busiest times of the year. It's easy to get distracted from cooking – which is why cooking fires increase at this time of year and is the leading cause of fires during the holidays. Always stay with your project, especially if you're cooking with oil or grease. If it does catch fire, slide a tight fitting lid over the pot to smother the flames and turn off the heat. If the oil has over-boiled and flames erupt, never use water on a grease fire or the flames will explode. Smother them instead with baking soda.

Day 12

While it's not fun to think about, with all the visitors that make their way to your home for the holidays, make sure everyone knows how to get out safely if a fire occurs. Make sure you have a designated "someone" to help young children, older adults, or persons with disabilities who may need additional assistance in the event of a fire.
But if the worst should happen and you need help cleaning up after a fire, remember PuroClean Emergency Recovery Services is open 24 hours a day, 7 days a week – even during the holiday! – for all your fire damage restoration needs! Call 877-750-7876
Save