In a previous post, we talked about a local animal hoarding clean up job we did in New Jersey. We also reported some statistics:
• Every year in the United States 3,500 animal hoarders come to the attention of authorities.
• At least 250,000 animals are affected each year.
For the month of February, we found 19 reports of animal hoarding in the news. This month's stories tell the tale of more than 1000 animals of all kinds – even birds and bunnies! – being abused unintentionally by neglect in 9 different states.
If any of these stories tug on your heart strings, and you decide to help by adopting or making a donation, just click on the links to the organizations directly involved in helping these animals.
February 3, 2015
The neighbors say they're concerned about a woman in Valley Center having too many cats, reporting that she may have about 80 cats inside her home.
They're concerned about the home owner's health, the health of the cats, and the health and safety of their community. It appears the neighbors have a point. There are statutes on the books for this community that limit homeowners to 4 household pets. Any homeowner having more than four (4) household pets is required to apply for a kennel license.
Because the animals have not yet been rescued, we don't have the link for how you can help . . .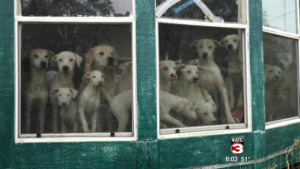 February 5, 2015
"He loved his dogs," volunteer and pet foster Shannon Hagan said. "He didn't understand what it took to care of those dogs."
St. Martin Parish Animal Services, Lafayette Animal Aid and a team of animal shelters and volunteers intervened to get the dogs into new homes after the owner and his family reached out, said Michelle Brignac, director of the St. Martin Parish Animal Services.
When volunteers arrived at the home, they found every dog had a name and showed affection towards their owner, which is something Brignac said she sees from time to time.
"They're friendly. They've been handled. They've been cared for," Brignac said generally speaking of dogs they take in from hoarders.
Shelter officials are urging anyone interested in opening their home to an animal to strongly consider adopting one.
"Anybody that can come in and help us…that's the time that we need them the most when we're dealing with those numbers of animals all at once," said Carley Faughn, executive director of Lafayette Animal Aid.
February 6, 2015
Rescuers found them in terrible living conditions, but now, dozens of dogs seized from a Kentucky home are receiving a second chance.
The 54 animals rescued from the Whitesville, Kentucky hoarding situation got help from the Animal Rescue Corp (ARC) when they safely removed all the animals from the property and transported them to an emergency shelter set up for their rescue.
On Thursday, eight of those dogs were brought to Lexington for care. And it will not be long until the dogs join the others inside the Lexington Humane Society as they search for their "forever homes."
"From any horrible situation or deplorable conditions that they were living in, it's sad," said Ashley Hammond, development manager for the Lexington Humane Society. "But we're very excited that they're coming to us."
"They'll be in a foster home to work on socialization for a little while until they're ready for adoption," Hammond said. "Just having the touch of a human, and the love, showing them that humans do love, that they do have that capability and we're here to help them."
When they are ready, the dogs will be put up for adoption, looking for a loving home. It is a day that all those involved anticipate.
The other dogs taken from the home in Ohio County have been taken to other humane societies throughout the state – and help from out of state as well!
Officials at the Lexington Humane Society said they're able to take in more animals with help from the community. You can donate to the shelter by going to their website.
Some of the dogs are being sent to the Kentucky Humane Society's main campus in south Louisville.
For donations or adoptions
(502) 366-3355
241 Steedly Drive
Louisville, KY 40214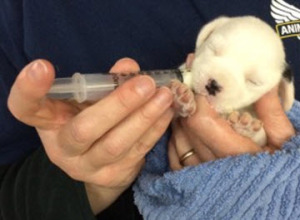 A group from out of state – all the way from Boca Raton, Florida, the Tri-County Animal Rescue (TCAR) team returned from two days of travel to and from Ohio County, Kentucky to bring back nine adult dogs (including two nursing moms) and 10 one-week-old puppies for safe haven, medical treatment, TLC and adoption at its Boca Raton center.
These dogs, including beagles, hounds, a great dane mix, and a black lab, had been living out in the cold on the property of the hoarder with little food, clean water or medical care. They never had a true home, a soft bed or family to call their own.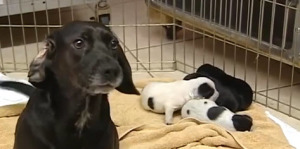 Whenever TCAR learns of animals in distress, especially due to large-scale crises such as natural disasters, puppy mill abuse, or suffering such as this rescue mission, it dispatches its rescue team regionally in South Florida and beyond… in this case, all the way to Kentucky.
TCAR operates solely on donations, grants, sponsorships and event and thrift shop proceeds without any city, state or federal funding, it seeks donations to continue its life-saving efforts and 100% no kill operations for rescue, staffing, shelter maintenance, medical treatment, food and medicines, or adoption services.
February 6, 2015
The Geauga County Humane Society's Rescue Village seized over 100 animals — 50 dogs, a pig, and 50 guinea pigs — from a hoarding situation in Geauga County.
The cost of housing, feeding and treating the animals is expected to exceed $25,000, the shelter said. It is accepting donations through Project SAVE at P.O. Box 116, Novelty, Ohio 44072 .
5. Nearly 200 dogs rescued from hoarder in San Bernardino County – California
February 9, 2015
San Bernardino County Animal Care and Control officers rescued nearly 200 dogs from a local hoarding situation, and many community animal care organizations have stepped up to help shelter officials care for the dogs.
Due to the ongoing investigation into the hoarding case, none of the nearly 200 dogs will be available for adoption.
However, with the help of various organizations including the Redlands Animal Shelter and members of the community, several animals have been adopted out allowing the shelter to maintain space for the incoming dogs.
February 11, 2015
Law enforcement rescued 19 dogs from deplorable and unsanitary conditions near Taylor. The animal shelter said four puppies tested positive with the parvo virus and one of them died this morning. The other three were transported to Austin Pets Alive! for further treatment.
The remaining dogs are staying at the Williamson County Regional Animal Shelter in a 14-day quarantine to evaluate their health. If the dogs are healthy and show zero signs of symptoms, rescuers will evaluate them for adoption.
Police said they will file animal cruelty charges against a Taylor couple after they removed 19 dogs from a home contaminated with urine and feces.
A building inspector deemed a Burkett Street home in East Taylor uninhabitable.
"It was one of the most horrific cases of animal cruelly that I have witnessed," said Don Georgens, Taylor police commander.
Outside the home is a sign advertising puppies for sale. Neighbors said they were not surprised.
"It smelled like something rotten, dead or something. It was a really bad smell," said Gloria Garza.
February 11, 2015
For the fourth time since 2007, an elderly Arizona woman who has a history of freezing and eating cats is under investigation for cat hoarding.
When deputies got word last week that Lucienne Touboul, 85, was in the hospital and no one was looking after her animals, they went to her home in Wittmann.
Sheriff's animal crimes detectives served a search warrant Wednesday at her home about 30 miles northwest of Phoenix. Detectives described the place as "in a very bad state," according to MCSO Lt. Brandon Jones. Cat feces and trash covered the floor, he said.
Detectives had to continue the investigation in full protective gear, including respirators. Jones said sheriff's detectives found cats in various states of severe distress, with major communicable disease that could spread to a human.
As of early Wednesday afternoon, at least 36 cats have been seized but detectives remain on scene locating more cats.
Jones said Touboul will faces charges for animal abuse and added no arrest was expected to be made on Wednesday.
There is no information in this report about where the cats will be taken for shelter.
Officials say this makes a total of 208 cats removed from Touboul's home in the past five years.
February 11, 2015
An officer was in the 400 block of south Broadway on Tuesday night on an unrelated call when a dozen rabbits were spotted on the side of the house.
Officers alerted animal services that there was a possible rabbit hoarder at the location.
Animal services went into the detached garage, which is approximately 200 square feet, and found a total of 62 rabbits. Some were as young as three days old.
The woman, identified only as Blanca, had set up lights to keep them warm, and others were in cages. A number of the rabbits were pregnant.
Blanca lives in the garage with the rabbits. In Spanish, she said she started out with just one rabbit and let it go outside, and then the rabbit made a mate, and that led to more and more rabbits.
Animal services says the rabbits look fairly healthy, but they will be taken to O.C. Animal Care to be assessed.
There is limited space at O.C. Animal Care for rabbits, so if anyone wants to adopt a rabbit, call (714) 796-6426.
February 13, 2015
Sixty-two small dogs and 12 birds were kept by an elderly couple inside a house.
There were also three chickens in the backyard.
Many of the dogs appeared to be Chihuahua mixes. The birds included everything from parrots and parakeets to pigeons.
A case of animal hoarding in South Houston turned out to be even worse than initially feared. "There's debris, feces and urine all over the floor. You know debris goes anywhere from an inch thick to areas where there are garbage bags and the stench is really bad," said Norm Uhl with the Houston SPCA.
If you'd like to help, please contact the Houston SPCAE-Mail: info@hspca.org
Mailing Address : 900 Portway Drive Houston, Texas 77024-8022
February 13, 2015
The Hewitt woman accused of "dog hoarding" and child endangerment now also faces 10 counts of animal cruelty, according to jail records.
Melanie Barrier, 56, was arrested Wednesday on two counts of child endangerment after her two daughters and 56 dogs were removed Monday from her Hewitt duplex, where she was allegedly trying to run an animal shelter.
Barrier was taken to the McLennan County Jail on the charges about 4:30 p.m. Wednesday, Hewitt Police Chief James Devlin said.
Another document filed Wednesday alleges that the girls, ages 12 and 14, suffered bloody dog bites from incidents in which "the dogs would sometimes get in fights and they would have to break them up."
"The living conditions were so bad that the children were sleeping in beds with urine and feces," the document says.
The 10 animal cruelty charges were filed Thursday, as the Waco Animal Shelter continued evaluating the dogs and determining how many were malnourished or mistreated.
The Waco Animal Shelter took in the animals. They will be held at 2032 Circle Road for 10 days, at which point Barrier can make a case for their return or the animals will be permanently taken from her care. Devlin said Barrier claims she owns 10 of the dogs.
None of the animals will be available for adoption until that decision is made.
At least six of the animals have microchips, Devlin said.
"We're going to do our best to figure out where they came from," he said.
Several people from Texas and out of state have called police, claiming to recognize stolen pets in news coverage of the seizure, Devlin said Tuesday.
35 of the dogs had been shipped out to no-kill rescue groups, mostly outside the Waco area, Humane Society of Central Texas Executive Director Don Bland said. Four dogs were being held pending a judge's decision on whether to return them to the accused dog hoarder, Melanie Barrier. Nine dogs have been claimed by other owners who had allowed Barrier to keep the animals.
Bland expected rescue groups to take the remaining eight unclaimed dogs by Monday. In the meantime, other animal rescues have relieved shelter space by pulling out dozens of dogs, and local adoptions have been strong in the wake of the Hewitt incident.
February 17, 2015
Inside the home of an animal hoarder, 100 cats lived there. The cats are still everywhere. Hiding, scurrying away, and doing their best to avoid capture.
Believe it or not, until a few weeks ago, the homeowner's 92-year-old mother actually slept in a filthy bed.
The cats were rounded up by order of the Maricopa County, Arizona, Sheriff Joe Arpaio.
Many of the cats are now up for adoption.
Until then, they are literally serving time in a converted wing of the county jail and cared for by the inmates.
Arpaoi has a no-kill policy.
February 18, 2015
Dozens of dogs, most of them chihuahuas, were seized from a family's home in one of Bernalillo County's biggest hoarding cases. Now, the dogs have to play a waiting game.
The animals are currently at one of Albuquerque's animal shelters, as Bernalillo County works to figure out whether some of them should go back to their owner or not. Some are weeks old, some of them are older and more timid. All 36 dogs, most of them chihuahuas, were seized from just one home in the east mountains late last week.
"The sanitation was not adequate or appropriate for animals or a person to be living there," said Misha Goodman, Director of Bernalillo County Animal Care Services.
Officials said there were at least 36 dogs, including 32 chihuahuas, three cats, seven goats and some chickens on the property. A dead chicken and cat were found near the home.
The dogs were living in their own filth, some of them malnourished.
Now, they're being cared for at the city's animal shelter, while the county works with the property owner to try and resolve the case.
The dogs cannot be adopted while the case is still pending.
12. Dogs seized in hoarding case up for adoption – Arizona
February 20, 2015
This is a follow-up on one of the cases we mentioned in last month's roundup:
More than a dozen dogs seized in a hoarding case in January will be available for adoption starting Saturday at the Pima Animal Care Center.
The dogs spent the past month recovering at the animal care center shelter, officials said in a news release.
A private donation to the Friends of Pima Animal Care Center Project Fund made it possible for the center to hire sol.Dog Canine Services to work with the dogs and make them good candidates for adoption, officials said.
"After just three weeks of training work, these once-terrified dogs have made tremendous strides in socialization and behavior," said Kristin Barney, chief operations officer at the animal care center.
"They are completely ready for adoption into loving homes," Barney said. "It is truly phenomenal to see what can happen with a trainer when we have cases like this," said Barney.
Barney said community donations can help provide training for abused animals and make them adoptable.
The center will be open from 10 a.m. to 5 p.m. Saturday, and reopens Monday at noon.
The dogs from the hoarding case will be identified by special signs on their kennels at the shelter, states the release.
For more information about these dogs, contact Karen Hollish at karen.hollish@pima.gov or call 724-5984.
February 22, 2015
A local no-kill shelter is trying to find homes for cats rescued from a hoarding situation outside a home in Durham.
Safe Haven for Cats in Raleigh is putting out the word to animal lovers to help adopt cats and kittens rescued from deplorable conditions in Durham.
Of those, 51 had to be put down because they were too sick, injured, or malnourished to be saved. Miller was there when the cats were rescued and saw their suffering firsthand.
"As you might imagine, the conditions that we found were completely unsanitary, a lack of water to drink, a lack of food to eat," she said.
So far no charges have been filed, but the case is on-going. Meanwhile, Miller and her staff at Safe Haven for Cats are focused on rehabilitating the animals they were able to save. They've already found homes for four of the ten they saved, and they're hoping to place the remaining six soon. It's all part of what they've been doing in the Triangle for the past 21 years.
"We take in abandoned, injured, orphaned cats and kittens and make sure they get them the medical care they need," Miller explained.
Miller does add that hoarding situations often escalate because the animals are not spayed or neutered and then breed, which appears to have happened in this latest case.
There are still six cats at the shelter waiting for their forever homes. For more on this and the cats currently up for adoption, click HERE
Closer to home
Remember: Suspected animal hoarding should always be reported!
90% of people who are caught hoarding animals will return to hoarding practices without some type of intervention, counseling, and followup.
People with a hoarding disorder often believe they're doing the right thing by "saving" animals. But on some level they know they're not, because they're very secretive.
Often, what gives them away is the smell.
If authorities step in, someone who hoards animals might admit that they've got more animals than they can take care of. They might even promise to reduce the numbers of the hoard. But eventually, they start back up again.
An animal hoarder might even choose to go without electricity or plumbing or other necessities because it means calling someone for repairs. They don't want anyone to know about the hoard.
If you suspect animal hoarding, please report it. Take photos if possible. Stop the cycle of abuse by neglect.
If you suspect hoarding by someone you know, start a conversation and see if what the person says matches with what you see, hear or smell.
If you live in the Greater Philadelphia or Southern New Jersey Region and need help for a friend or family member who has hoarding disorder:
In previous posts about help for hoarders and their families we have listed the treatment professionals who specialize in helping people diagnosed with hoarding disorder.
Before confronting the animal hoarder, please consider consulting one of these professionals. They can help you plan a compassionate intervention based on the techniques of Cognitive Behavioral Therapy – the only type of therapy proven to be effective in changing the hoarding behavior.
• If you suspect someone in the Greater Philadelphia area is hoarding animals, contact the Pennsylvania SPCA
• If you suspect someone in the Southern New Jersey area is an animal hoarder, contact the New Jersey Department of Health
Or the New Jersey Society to Prevent Cruelty to Animals (NJSPCA): 800-582-5979,
And, as always, if you have questions about hoarding cleanup services – whether it's for object or animal hoarding – in the Greater Philadelphia and Southern New Jersey region please give us a call at 877-750-7876.