[vc_row][vc_column width="1/2″][vc_column_text]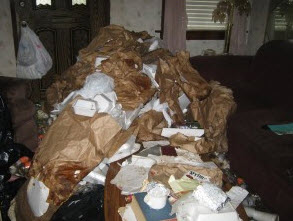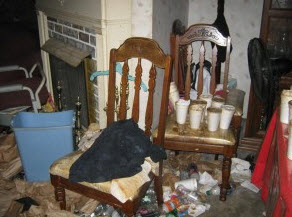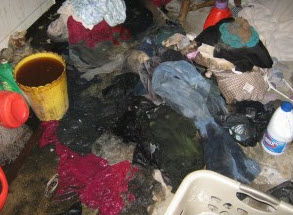 Save
[/vc_column_text][/vc_column][vc_column width="1/2″][vc_column_text]We received some very sad news this past week.
PuroClean Emergency Recovery Services was called several weeks ago by a relative living in another state to assist his aging aunt with hoarding clean up services.
This was a different kind of hoarding clean up than what is normally seen on the television shows (e.g., Hoarding: Buried Alive and A&E's Hoarding) and what we have seen in our business.
This woman didn't collect "stuff" from dollar stores, garage sales, or dumpster diving and didn't own pets. The cause of the hoarding practices occurred thirty years ago when the woman suffered a stroke at age 42.
Because her brain had been so damaged by the stroke, she was unable to care for her personal needs.
For many years, her beloved husband had provided personal care for her – washing her clothes, cooking her food, taking out the trash, and keeping the house clean. Unfortunately, her husband passed away 8 years ago, leaving this woman isolated and alone.
The extent of her disability was unknown to her relatives until they were contacted by the City of Philadelphia.
When we went on the initial call, Mrs. B met us on the front porch wearing nothing but a trash bag.
All her clothing had been soiled and she was unable to solve the problem of washing them because the stroke had damaged the part of her brain that controls effective problem solving and information processing.
[/vc_column_text][/vc_column][/vc_row][vc_row][vc_column][vc_column_text]Piles of garbage with empty food containers almost blocked the door because she couldn't remember where or how to empty the trash. Flies and vermin filled every room because Mrs. B was incontinent of bowel and bladder and human waste coated all the furniture. And, she couldn't remember how to clean it anymore.
We did what we do best:
With the aid of the out of town family members, and with compassion and gentle caring, we helped Mrs. B to obtain clean clothing.
We emptied the home of garbage and human waste.
There was still much work to do to finish sanitizing the home, but Mrs. B could only handle a few hours of clean up activity at a time, so we waited patiently until we were allowed to do more for her.
Unfortunately, with no family in the local Philadelphia area able to care for her, and with her inability to care for herself, Mrs. B died – a victim of the horrendous heat wave that hit the Delaware Valley with record temperatures. The cause of death: dehydration.
The story is so sad because this death could have been prevented. However, the out of town family members were unaware of the ongoing problem for many years. And, when they did find out, they simply did not know of the available local resources that could have provided Mrs. B with the care she needed.
As part of our ongoing effort to provide help for families of hoarders by connecting them to the services they need, we are providing a partial list of local resources available in the Delaware Valley region that specialize in assisting seniors with self-care.

Good-bye Mrs. B. May you rest in peace.
[/vc_column_text][/vc_column][/vc_row][vc_row][vc_column][vc_column_text]
We provide compassionate help for families of hoarders in the Greater Philadelphia and Southern New Jersey region faced with the crisis of clean up.
However, if you know of other senior care resources in the Greater Philadelphia and Southern New Jersey area who would be willing to help people like Mrs. B, please contact us by phone at

877-750-7876

or email at hallcroft@puroclean.com and we will add them to the list.
[/vc_column_text][/vc_column][/vc_row][vc_row][vc_column width="1/3″][vc_column_text]
In Pennsylvania contact:
The Philadelphia Hoarding Task Force
For people under 60 years of age, call 215-751-1800
For people 60 years of age and above, call 215-545-5728
Bucks County Office on Aging
30 E Oakland Avenue
Doylestown, PA 18901
215-348-0510
aging@co.bucks.pa.us
Philadelphia Corporation for Aging
Wallace Building
642 N. Broad Street
Philadelphia, PA 19130-3049
Helpline: 215-765-9040
Senior Care – Center City Philadelphia
2115 Sansom Street
Philadelphia, Pa 19103
215- 561-2733
Senior Care – North East Philadelphia
9475 E. Roosevelt Blvd.
Philadelphia, Pa 19114
215-676-7800
Senior Helpers – Philadelphia
737 West Chester Pike
Suite 5
Havertown, PA 19083
610-789-4700
info@seniorhelperspa.com[/vc_column_text][/vc_column][vc_column width="1/3″][vc_column_text]
In Burlington County NJ contact:
Burlington County Office on Aging
795 Woodlane Road
PO Box 6000
Westhampton, NJ 08060
609-265-5069
BCOfficeonAging@co.burlington.nj.us
Senior Care – Delran
8008 Route 130 North
Building B, Suite 300
Delran, NJ 08075
856-461-1700
Senior Helpers – Burlington
9 Garden Street, Suite 206
Mt Holly, NJ 08060
(609) 261-2995[/vc_column_text][/vc_column][vc_column width="1/3″][vc_column_text]
In Camden County NJ contact:
Camden County Division of Senior and
Disabled Citizen Services
700 Browning Road
Parkview on the Terrace, Suite 11
West Collingswood, NJ 08107
856-858-3220
CCDSDS@camdencounty.com
Valerie O'Neil Neighbors
Senior Helpers of Cherry Hill
1060 N. Kings Highway, Suite 100
Cherry Hill, NJ 08034
Senior Care – Camden
1000 Atlantic Avenue
Camden, NJ 08104
856-246-3350
Senior Helpers – Camden
70 Lacey road
Manchester, NJ
(732) 657-3600[/vc_column_text][/vc_column][/vc_row]