[vc_row][vc_column][vc_column_text]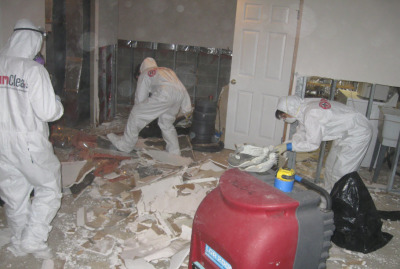 Finding mold in your home, school, or business can be frightening!
And, sometimes unethical companies can prey on your fear of the health damaging effects of mold.
Don't be fooled! Not everything that looks like mold is indeed mold!
So, how can you tell if you do indeed need professional mold removal services?
Watch our video and answer the questions to find out!

So, how'd you do?
If you answered "yes" to 2 or more questions, you probably need professional mold removal services.
Consider scheduling a mold inspection and an indoor air quality test for mold!
But remember, if a company does both mold testing and mold removal – run!
That's a conflict of interest and you need to protect yourself!

Footnotes on the survey:
1. We're using the term "water damage" in its broadest possible sense. It includes: burst pipes, burst water heater, flooded basement, flooded crawlspace, burst washing machine hose, leaking ice maker supply line, storm damage, leaking roof, toilet overflow, or sewage backup.
Because water damage can come from so many places, statistically, we know that 50% of homes and businesses in our Greater Philadelphia and Cherry Hill area will experience at least 1 water damage event during the occupation of the building.
If you had a water damage event in the last 2 years, but didn't have it professionally extracted, monitored and dried, the chance that you have a mold problem needing professional mold removal services increases exponentially.

Professional water damage restoration monitors the progress of drying with meters that measure the moisture


2. Many homeowners and business owners try to take care of water damage by themselves. And, a lot of times the media encourages this. The problem is, without meters to measure the moisture, a lot of water can be missed and start the growth of toxic mold.
Why?
Because mold starts to grow in as little as 24 to 48 hours after water damage. And it's the water you can't see that can be the biggest problem.
3. Bathroom mold is common due to high humidity. The quick fix is to increase the ventilation to dry it out by opening a window after bathing or installing an exhaust fan. But, if you notice mold growing in other places, like walls and ceilings, closets or kitchen cabinets, the probability that you have a mold problem that needs professional attention is very high!
4. When mold keeps coming back it's a sign that the water source that's feeding it hasn't been corrected. Damp basements, leaky roofs, and leaking pipes elevate moisture in buildings that feeds the mold. First, fix the moisture problem. Then get an indoor air quality test. If it comes back positive, get professional mold removal services.
5. Musty odors are the first indicator of mold – even before you see signs of mold growth.
If you notice musty odors, it's time for a mold inspection to find out if you need professional mold removal services.
6. Water damage if not dried fast enough can lead to mold, but it also encourages termite infestation. If you have seen signs of termites, check for mold infestation as well.
7. Damp basements create the perfect environment encouraging mold growth. Prevent mold by installing a dehumidifier! However, if you already see signs of visible mold it's time for an inspection. But, not all damp basements have mold. Sometimes, it's just efflorescence. You can't know without getting it tested.
8. Slow leaks contribute to mold growth. Fixing the leak is the first step. Removing all water damaged materials and mold growth is the next logical step. But, if, after all those repairs are completed and you still smell a musty odor, get an indoor air quality test to see if you have a problem that requires professional mold removal.
9. If you already had testing for mold completed and the report came back positive, you definitely want to schedule professional mold removal service as soon as possible.
PuroClean Emergency Recovery Services does mold removal – not testing.
If you need a referral for an indoor air quality hygienist we know you can trust in the Greater Philadelphia and Cherry Hill area give us a call 877-750-7876
[/vc_column_text][/vc_column][/vc_row]