There are so many things that need to be done after fire damage in a home and the steps that are needed to bring the property back after a loss like this can be overwhelming.
So here's a short list of where to begin: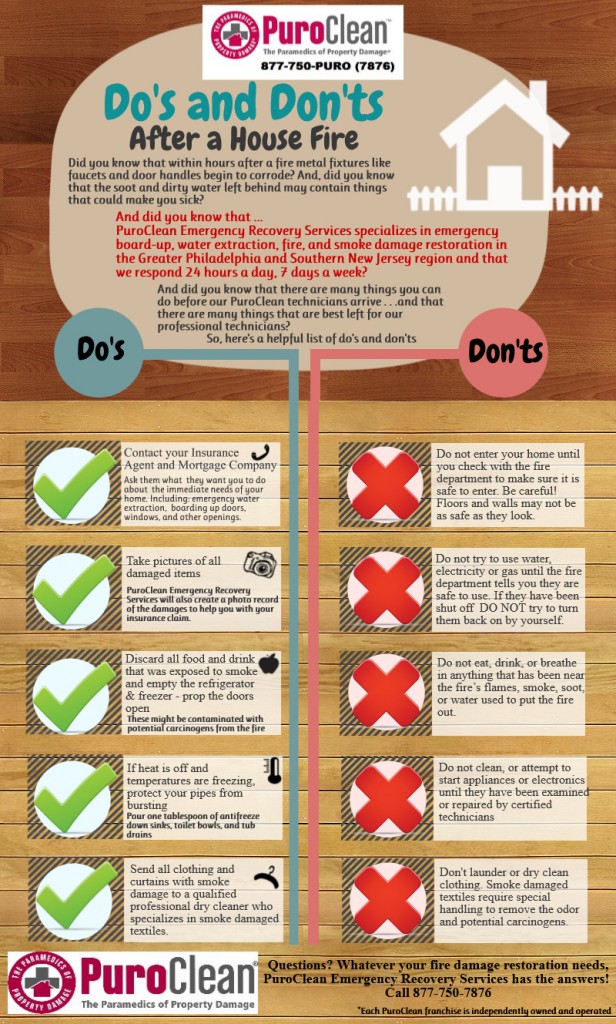 After fire damage to your home, you need help, support, comfort, and people who can provide answers to your questions.
In our area, the American Red Cross is notified of every home fire. They provide emergency assistance for clothing and food to start your road to recovery. Since you won't be allowed into your home until the fire department gives the "all clear," the American Red Cross also provide temporary emergency shelter.
Your next emergency contact should be to your insurance agent and your mortgage company.
Many times they have "preferred provider lists" of fire damage restoration professionals that they want you to consult.
Once you're allowed back into your home, start by taking pictures – as many as you can – of the damage.
But be careful! The electricity, water and gas are usually turned off by the fire department.
Don't try to turn them back on yourself.
They can only be turned on by licensed professionals after they've been certified as safe.
After taking pictures, throw out all food and beverage items – inside and outside of your refrigerator and cabinets.
Smoke from a fire permeates everything with carcinogen containing soot. And you don't want to add insult to injury by getting sick after fire damage.
Then, turn off the appliances and unplug them and prop the doors open.
If the heat is off, and temperatures are freezing, protect your home from further damage of frozen and burst pipes: pour one tablespoon of antifreeze down sink & tub drains and toilets.

Don't start the clean up process on your own after fire damage!
Everything has to be cleaned in a special way to remove the soot, smoke and water used to put out the flames.
Don't turn on any appliances!
If you turn on computers or other electronics before they have been cleaned, it could cause them to short out.
Don't try to clean cloth items yourself!
Textiles, like your clothing, bedding, and draperies will also need to be cleaned in a special way to remove the smoke and soot.
If you try to clean them yourself, you could embed the odor and stains permanently.
There are several dry cleaning specialists in our area that have the equipment and expertise to remove smoke and soot from fire damaged textiles.
At PuroClean Emergency Recovery Services, our comprehensive fire damage restoration services include:
• secure your home against more damage with our emergency board up services;
• provide you with an estimate of the structural damage;
• provide you with an estimate for the cost to repair and renew items of personal property;
• clean and repair the structural damage
• pack out and store your household items until you are ready to move back in
When you need help recovering after fire damage in your home, we're available 24 hours a day, 7 days a week at

877-750-7876