October 6-12, 2013 has been designated by the National Fire Protection Agency (NFPA) as Fire Prevention Week, and this year's theme is 'Prevent Kitchen Fires.' During this year's fire safety campaign, we're helping to spread the word to the communities in Philadelphia and Southern New Jersey area about the dangers of kitchen fires – most of which are caused by unattended cooking.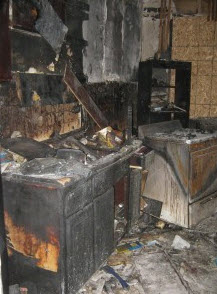 This kitchen fire resulted in a total loss of the home
According to the latest NFPA research, cooking is the leading cause of home fires: Two out of every five home fires begin in the kitchen – more than any other place in the home – and they're also the leading cause of home fire-related injuries.
Often when the fire department is called to a fire that started in the kitchen, the residents say that they only left the kitchen for a few minutes. Sadly, that's all it takes for a fire to start.
To keep that from happening to you
Here are the 6 tips to avoid kitchen fires NFPA would like everyone to remember and implement
Stay in the kitchen when you are frying, grilling, broiling, or boiling food. If you must leave the room, even for a short period of time, turn off the stove. When you're baking, or roasting food, check it regularly, stay in the home, and use a timer to remind you when it's done.
When it comes to grease fires on the stove, always just put a lid on it and turn off the heat – and have a box of baking soda nearby to quench the flames outside the pan.
This used to be a refrigerator before the kitchen fire . . .
If you have young children, use the stove's back burners whenever possible – and keep the handles of pots and pans on the stove turned away from the front. Anyone who's had children knows they're always curious – and toddlers have a tendency to reach up and pull pots down onto themselves. So, the goal is to keep children and pets at least three (3) feet away from the stove whenever possible.
When you cook, wear clothing with tight-fitting sleeves – and, if you have long hair make sure you keep it pulled back.
Keep potholders, oven mitts, wooden utensils, paper and plastic bags, towels, and anything else that can burn, away from your stove top.
Know where your fire extinguisher is and make sure everyone in the family knows how to use it.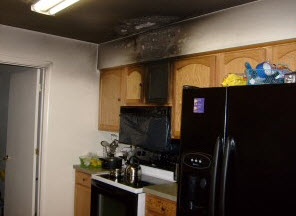 Most of these tips are common sense. And thankfully most of the time, people remember them so the incidence of fires has actually decreased over the last 50 years in our area.
But, everyone gets distracted sometimes.
In our current age of the multitasking epidemic, these tips are easily forgotten, so fires continue to be a problem – and the need for professional fire damage restoration.
And that's where PuroClean Emergency Recovery Services comes in!
We've helped dozens of families in our Greater Philadelphia area recover after devastating fires in their homes with successful fire, water and smoke damage restoration.
With our understanding, compassion and professionalism, we can help families suffering from the shock of a kitchen fire recover their sense of home and safety by mitigating the damage.
So if you, or someone you know needs help cleaning up after fire damage – no matter what the source – give us a call at 877-750-7876 as soon as possible so we can help you get back to normal as quickly as possible.