[vc_row][vc_column][vc_column_text]
Would you know what to do – and NOT do – if you had a kitchen grease fire?
[/vc_column_text][/vc_column][/vc_row][vc_row][vc_column width="1/2″][vc_column_text]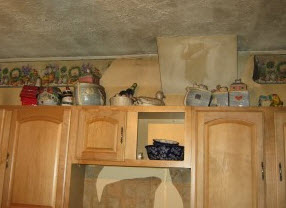 [/vc_column_text][/vc_column][vc_column width="1/2″][vc_column_text]Several years ago we were referred by an insurance agent to help a homeowner in Riverside, New Jersey.
It seems the homeowner's teenage son was making popcorn on the stove and used too much oil.
The oil burst into flames, consuming the pot in fire.
Panicking and not knowing what to do, the poor kid poured water on the flames.
Instantly, the fire turned into an explosive fireball, shot up over the kid's head and melted the window blinds on the other side of the room.
Thankfully, the kid wasn't hurt – it was almost as if he was in a protective bubble (or his guardian angels were working overtime!).
But, the kitchen, as well as the rest of the home was now filled with grease and soot.
But all this damage could have been avoided if the teenager had known how to handle the fire.
[/vc_column_text][/vc_column][/vc_row][vc_row][vc_column][vc_column_text]
So here's a short list of 11 things you
DON'T

want to do if you have a grease fire in your kitchen:
1. DON'T PUT WATER ON A GREASE FIRE!
Not only will the water not extinguish the fire, it will cause the burning oil to explode. Water, being heavier than grease, sinks to the bottom of the fire.
Instantly it becomes super-heated and the explosive force of the steam shoots the burning oil up and out.
As in the case of our teenager, inside the small confines of a kitchen, the fireball hit the ceiling shot up over his head and started a fire on the window blinds on the other side of the room.
2. DON'T KEEP THE STOVE ON!
Turn off the burner – the fire might just get extinguished on it's own
3. DON'T THROW SUGAR OR FLOUR ON A GREASE FIRE!
One cup of either of these can create the explosive force of two sticks of dynamite.
Instead use baking soda – or even better use salt!
Baking soda puts out fires by releasing carbon dioxide and smothering the fire, but if the fire is really violent, the fire creates convection that pulls in enough oxygen to offset the smothering effect. Salt, on the other hand, is a great heat absorber for its volume. It sucks so much heat out of the grease that it simply can't support combustion anymore.
4. DON'T USE A WATER BASED FIRE EXTINGUISHER!
The extinguisher you want is a Halon extinguisher or some Aqueous Film Forming Foam (AFFF) extinguisher. Check to make sure that the one in your kitchen (or the one you're likely to use) is the right kind – today – before you have to use it.
And be careful! Standing in front of a pan full of grease and shooting it with a pressurized fire extinguisher will obviously spread it all over the place.
So stand back and remember it will probably take longer than you'd expect.
5. DON'T TRY TO CARRY THE FIRE OUTSIDE!
Trying to carry a pot or pan full of burning oil will just slosh and splash the grease fire.
6. DON'T WAIT TO CALL 911!
Only professional fire fighters are trained to know when the fire is really out. It's not really something you want to doubt!
After the firefighters have left, it may seem like the danger has passed and the home is safe from further destruction. But without professional help to clean the fire, smoke and soot damage, your home will never return to normal.
While the principles behind cleaning up after a kitchen grease fire are straightforward, it takes a lot of experience and manpower to do it the right way to protect your home and family. And this means that fire damage restoration shouldn't be attempted by a homeowner on their own.



There are a lot of companies in the Greater Philadelphia area advertising their ability to restore buildings after fire and smoke damage, but make sure you only choose one with the proper training and IICRC – Clean Trust certification. The IICRC Clean Trust requires the firms it certifies to take extensive training and coursework before they can earn their certification. And PuroClean Emergency Recovery Services is an IICRC – Clean Trust certified firm!
But what you shouldn't do before calling us if you've had a kitchen grease fire:
7. DON'T CLEAN OR PAINT THE WALLS!
Homeowners who try to clean these surfaces only cause the odor, soot, and smoke to set permanently.
8. DON'T CLEAN CARPETS OR UPHOLSTERY!
Smoke and soot can contain carcinogenic materials so special cleaning processes must be used to make them safe again.
9. DON'T CLEAN OR REPAIR ELECTRICAL APPLIANCES!
Appliances need to be examined – and cleaned – by a licensed and trained repair technician.
10. DON'T LAUNDER OR DRY CLEAN CLOTHING.
Smoke and soot damage must be cleaned with a special process in order to remove carcinogens that may have been generated by the fire.
11. DON'T WAIT TO CALL PUROCLEAN EMERGENCY RECOVERY SERVICES
Time is of the essence! Within hours after the fire is out, smoke and soot start to degrade metal, plastic, carpet and even glass. The longer smoke and soot remain on these surfaces in the home, the more damage they can do and the more expensive it is to fix. Call PuroClean Emergency Recovery Services at 877-750-7876 as soon as the firemen leave and certify that the home is safe. We can begin the process of fire damage restoration – even after a kitchen grease fire – so you can be sure it's done right.
[/vc_column_text][/vc_column][/vc_row]
Save