[vc_row][vc_column][vc_column_text]

Going away for the holidays? You're not alone!
For many of us it's a time for rest and relaxation and vacations away from home with friends and family.
Statistics gathered from the US Travel Bureau tell us that Thanksgiving and the Christmas/New Year's holiday periods are among the busiest long-distance travel periods of the year. So much so that during the Thanksgiving travel period, the number of long-distance trips (to and from a ­destination 50 miles or more away) increases by 54 percent! And travel during the Christmas and New Year's Holiday period the number rises by 23 percent.
But for some unlucky homeowners and business owners, getting back to reality after the holiday vacation includes coming home to a basement flooded with water from a broken supply line or over the ground flooding. And, because the water has been allowed to dwell – sometimes for days or weeks – the first indication that there's a problem is an awful smell greeting them at the front door when they return home. The sad fact is, there are many things folks can do to prevent water damage to their homes before they go.
So, here's a list of 5 helpful tips to prevent water damage to help you savor all that rest and relaxation you bring home with you from your vacation by avoiding costly water damage when you're away:
[/vc_column_text][/vc_column][/vc_row][vc_row][vc_column width="1/3″][vc_column_text]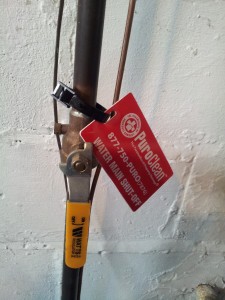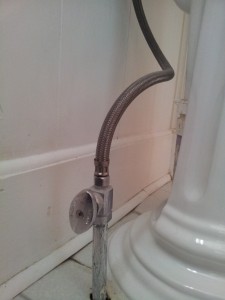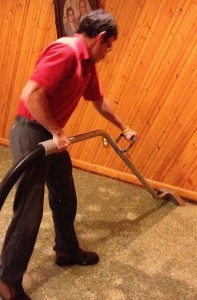 [/vc_column_text][/vc_column][vc_column width="2/3″][vc_column_text]
1. The best protection against water damage and flooded basements when you're on vacation is to shut off the main valve that controls all the water entering your home before you leave.
If you're not sure where it is, look for your water meter; the main shutoff will be located nearby. (It's a good idea for everyone in your home to know where the main water shutoff valve is so they can stop the water in case of an emergency.)

2. If you've never shut off the main water valve before, test it before you leave on vacation.
Turn on a faucet somewhere in the house and shut off the main water valve. All the water should stop.
An old valve can break, so be gentle when you're performing this test. If the valve is stuck, leave it alone. If it leaks or doesn't shut off all the way, have a licensed plumber replace the valve. (You'll need to call your water department to have the water to your house turned off at the curb while you have the repairs made.)
3. If you don't want to shut off the main water supply because you have a neighbor watering the plants while you're gone, shut off the valves to the most common sources of water damage: dishwashers, icemakers and washing machines, in case a hose cracks or leaks while you're away.
If you don't think this is important because you have braided metal supply lines, read our post about burst braided supply lines. And then go turn them off!
Individual shutoff valves or "stops" are installed on the supply lines leading to most appliances as well as to toilets and faucets. Water supply stops usually have a small round or oval handle that you turn clockwise to shut off the flow of water.
4. If you have a well, shut off the electrical switch for the well before you leave so it won't pump any water while you're gone.
But don't shut off the electric to the whole building! If a leak should occur, or a storm floods your basement with water, your sump pump needs the electricity to do it's job!
And one last thing …
5. While nobody wants a bigger "to-do" list before going on vacation, take a short inspection trip around the outside of your home.
Taking the time to check the gutters and down spout extensions can save you thousands of dollars later by preventing storm water damage while you're away.
Remember: a 1,000-sq.-ft. roof can cast off about 620 gallons of water during a 1-inch rain storm. That's about 103 gallons per downspout if you have six of them. And, you really don't want all those 620 gallons of water in your basement to greet you when you return! So, a quick check to make sure the gutters are clean and the downspouts are draining away from the foundation are key to prevent water damage and basement flooding while you're away.[/vc_column_text][/vc_column][/vc_row][vc_row][vc_column][vc_column_text]
But if the worst should happen and you need help cleaning up water damage in a flooded kitchen or basement, PuroClean Emergency Recovery Services is here for you

24 hours a day, 7 days a week. We're even here for you on holidays!

We'll get your home clean, dry and sanitized before mold can grow

Call 877-750-7876
[/vc_column_text][/vc_column][/vc_row]