[vc_row][vc_column][vc_column_text]
Effective basement mold removal for your Philadelphia or Cherry Hill home requires knowledge, training and expertise.
[/vc_column_text][/vc_column][/vc_row][vc_row][vc_column width="1/2″][vc_column_text]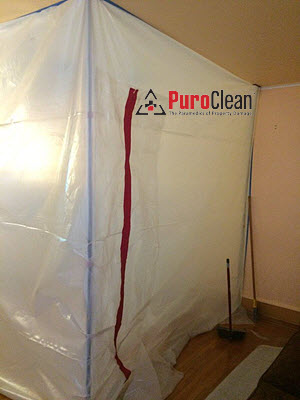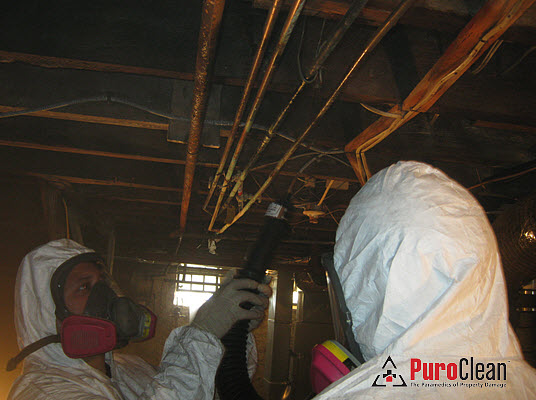 [/vc_column_text][/vc_column][vc_column width="1/2″][vc_column_text]Although every basement mold situation is different, the process we use to remove it is the same.
Our process protects both the homeowner and the PuroClean Emergency Recovery Services technician while we safely remove the mold.
1. Before any basement mold removal project begins,
we help the homeowner identify the moisture problem that's caused the mold growth in the first place. 
We do this for one reason: all attempts at remediating the mold effectively will fail unless the water problem is fixed first.
Once the water problem is corrected we proceed with the basement mold removal.
2. Without proper care,
removing the mold can contaminate the rest of your home.
To prevent cross-contamination,  before we start removing the mold, we build a containment chamber.
3. Then we apply negative air to vent the toxic mold spores outdoors.
4. Then we remove any wet, rotted, and mold contaminated materials, double bag it for disposal while we scrub the air with HEPA air filtration devices.
5. Then we follow the IICRC recommended 3-part protocol to remove it by vacuuming all surfaces with special HEPA filtered vacuums; treating the mold with antimicrobial; and vacuuming the dead spores once again.
6. If necessary, at the end of the job we will encapsulate. This last step is mostly for cosmetic reasons, but finishing a basement mold removal job in this way is one of the marks of our professionalism.
For immediate help call 877-750-7876
[/vc_column_text][/vc_column][/vc_row]