[vc_row][vc_column][vc_column_text]

[/vc_column_text][/vc_column][/vc_row][vc_row][vc_column][vc_column_text]
Water damage in commercial buildings is nothing new.
As a matter of fact, according to "Implementing Health-Protective Features and Practices in Buildings" (2005)
85% of all commercial buildings have had water damage at some point.
So, as a building manager, property manager, or maintenance manager you know it's not a question of "if" you'll have water damage, only "when."
But, of all the commercial structures prone to water damage, a warehouse is probably the most vulnerable!
[/vc_column_text][/vc_column][/vc_row][vc_row][vc_column width="1/2″][vc_column_text]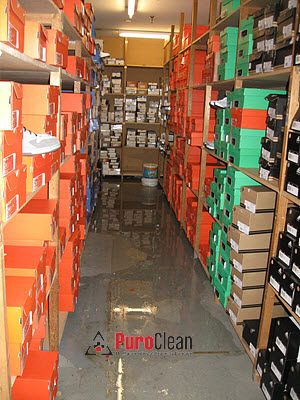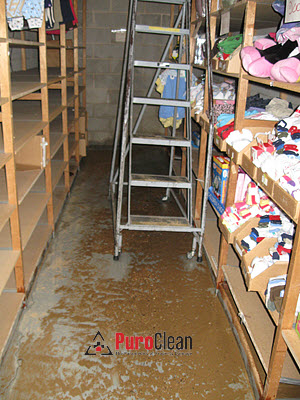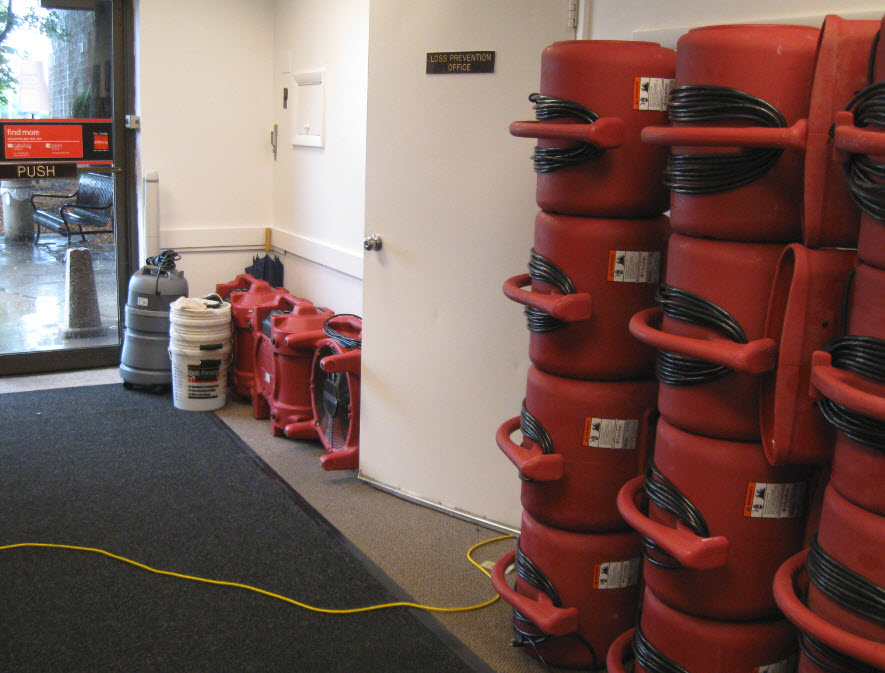 [/vc_column_text][/vc_column][vc_column width="1/2″][vc_column_text]Why?
Because warehouses are huge structures filled with lots of inventory. ..
and because warehouses have lots of areas that might not be seen for weeks – or even months.
What that means is that if there's water damage to your warehouse, it may have gone unnoticed for a long time while it was quietly destroying your inventory and inviting mold and bacterial growth.
So, preventing water damage to your warehouse is the best way to keep from suffering economic impact to your bottom line.[/vc_column_text][vc_column_text]
So here's what to do to prevent warehouse water damage:
Water damage to your building can originate from two places – both inside and outside the building
 Water Damage coming from inside the structure is always related to plumbing. Make sure you and all your employees know where the water main shut off valve and how to close it.
When a pipe bursts, a toilet overflows, or a soil line breaks, the water main shut off valve is your best defense to preventing further damage.
Water Damage coming from outside the structure usually occurs from weather related events: snow and ice storms, rains and floods.
To prevent this kind of damage, check flat top roof drains and gutters on a regular basis to make sure they're clear.
But if it's too late for prevention, and your warehouse is already flooded with water and worry, here are the 5 steps to take to begin recovery:
1. Turn off the electricity in the area to avoid the possibility of electrocution for those working in and around flood waters.
2. Take pictures of the water damaged area and any damaged items.
3. Clean out the damaged area. Remove loose items such as furniture or any stored inventory or products. To reduce the chance your inventory gets damaged, use pallets and raise everything above the water line off the floor.
4. Remove standing water. Different techniques are needed depending on the depth and severity of the flood. For some areas a wet/dry vac is all that's needed. For deeper water, use a gas-powered submersible pump.
5. Prevent mold and bacterial growth. Once the water is removed, spray everything with an antimicrobial solution.
6. Increase air movement.  Dehumidifiers are only half the solution. Without adequate airflow, moisture stays trapped in the structure, causing problems long after you think the water damage was gone.[/vc_column_text][/vc_column][/vc_row][vc_row][vc_column][vc_column_text]
Finding a flood in your warehouse can be overwhelming.
You know that without the proper equipment the damage and destruction to the structure and contents won't be dried completely.
Without professional attention, water damage to your warehouse will have a negative effect on your bottom line.
Professional water damage restoration is always recommended because:
We use the latest restoration technology to address the problem
and find the best restoration solutions to stop the damaging effects of water to your property and contents
with the least amount of interruption to your business as possible.
So here's what you need to know about the PuroClean Emergency Recovery Services 7 Step Warehouse Water Damage Restoration Process: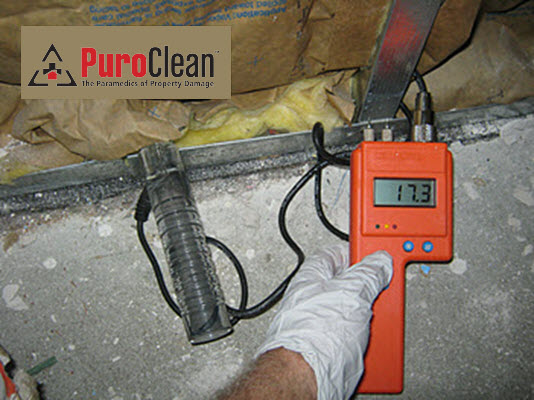 DEPLOYMENT

First, we deploy our Team within minutes of your call depending on the severity of possible damage occurring.




INITIAL ASSESSMENT

Then, when we arrive on site, we assess the scope of the problem and begin photo documentation of the loss. Our Advanced Structural Drying (ASD) team specialists use moisture meters, infrared cameras and thermo-hygrometers to find all water damaged areas




 We'll ASSURE YOUR EMPLOYEE'S SAFETY

as well as the safety of our team at the site
.




WATER EXTRACTION

After that, we'll present a restoration plan to you for  approval. Once approved, we'll extract all the water from the property. We use state-of-the-science drying methods to assure that seepage from saturated materials won't create new areas of standing water.

 


DRYING AND DEHUMIDIFYING

Next, we remove any remaining moisture using a variety of equipment ranging from large air movers, to LGR dehumidifiers and/or desiccant dehumidifiers. Depending on the job, we may use a combination of all three. To ensure that no mold or bacteria will grow, we treat each area of water damage in the warehouse with antimicrobial solution.

 


PACK OUT

Our Team specialists will work with you to inspect and evaluate all property contents. In some cases, we won't be able to clean and restore the salvageable water damaged contents on site.  If that's the case we'll inventory them, mark them, and transport them to our clean storage facility until water damage mitigation is complete.




PROPERTY RETURN AND FINAL READINGS

During the mitigation process, we monitor the structure and environment constantly.  Last but not least, once your warehouse is restored to pre-loss condition and all surfaces are clean and dry, we return the contents to their original surroundings. Then we take our final readings to make sure no damage was overlooked.
[/vc_column_text][/vc_column][/vc_row][vc_row][vc_column][vc_column_text]
No matter how large or small your warehouse water loss is, we have the technology, manpower and experience to get it clean, dry, safe and sanitized with a minimum of disruption to your business
For immediate assistance call 877-750-7876
[/vc_column_text][/vc_column][/vc_row][vc_row][vc_column][vc_column_text]
Save[/vc_column_text][/vc_column][/vc_row]