What do you do when:
1. You're a property manager of a condominium in Cherry Hill, NJ
2. and frozen pipes burst at the same time in 2 different units
3. on a Saturday night?
4. causing water damage to 7 units at once?
You call

PuroClean Emergency Recovery Services

of course!
The second unit with frozen & burst pipes in a Cherry Hill Condominium

Burst-pipe problems begin to appear in our Greater Philadelphia and Southern New Jersey area when temperatures fall into the teens and upper 20's.
Pipes exposed to cold air (especially flowing air on a windy day) because of cracks in an outside wall or lack of insulation are vulnerable to freezing.
And a pipe with a 1/8-inch crack can spray up to 250 gallons in 24 hours!
But for this vacant condo unit in Cherry Hill, NJ the frozen and burst pipe problem was caused because the owner turned off the heat to the unit!
So, the very first tip to prevent frozen & burst pipes is:

Turn up the thermostat!


Whatever money you might save by keeping the thermostat low when it's below freezing outside might be used up with an emergency water extraction call.
And, as long as the extreme cold air stays around, keep that thermostat setting just a little higher when the temperatures outside drop below freezing.
If you normally lower the temperature at night, leave it at the warmer daytime setting.
If you have a home that's super-insulated, this may not be necessary – but wouldn't you rather be safe than sorry?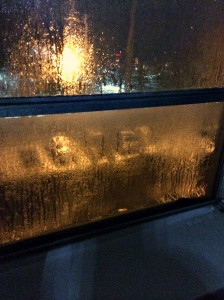 Burst pipes in a vacant condo unit with the heat turned off cause ice to form on the inside of the windows


The second tip to prevent frozen & burst pipes :
A dripping faucet can prevent a pipe from bursting

in extreme cold weather.
It's not that the small flow of water prevents freezing: Opening a faucet keeps the excessive pressure from building up between the faucet and the ice blockage when freezing occurs preventing a burst in the pipes.
If there is no excessive water pressure, there is no burst pipe, even if the water inside the pipe freezes.
A dripping faucet may waste some water, so only pipes vulnerable to freezing (ones that run through an unheated or unprotected space) should be left with the water flowing.
The drip can be very slight – even the slowest drip at normal pressure will provide pressure relief when it's needed most.
When both the hot and cold water lines serve one faucet, make sure both lines are open a bit, since both are subjected to freezing.
If the dripping stops, leave the faucet(s) open, since a pipe may have frozen and will still need pressure relief.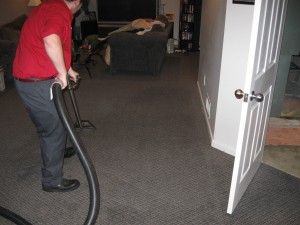 This property manager in Cherry Hill, NJ with water damage in 7 condo units has no worries tonight!


And the third tip to prevent frozen & burst pipes :

Open Doors!

Underneath kitchen and bathroom sinks, inside cabinets, the temperature can be much lower than in the room – especially if these cabinets are on the outside walls of your home. Open up the doors to allow air to circulate. This also applies to bathroom doors or any room in which you have a faucet or water-filled appliance. And keep them open for the duration of the freezing temperatures outside to help battle frozen plumbing lines.



And remember, if you need help with emergency water extraction and professional drying after frozen & burst pipes, don't wait!
All that water, if not dried quickly can cause health damaging mold to grow.
Whether you're in Cherry Hill, Philadelphia, or the surrounding area, we're only a phone call away at 877-750-7876