Our business exists to solve problems. Sometimes the problems we solve are for homeowners; sometimes we solve them for for other contractors.
In this story about correcting ceiling water damage for a roofing contractor, we got to do both!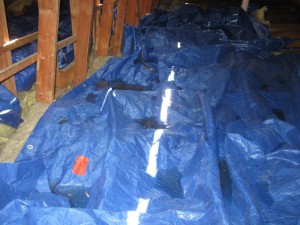 A few years ago we were contacted by a roofing contractor who was in a panic. It seems that just when he was in the middle of replacing the roof for a home in Philadelphia, a freak storm with tons of rain and gale force winds blew into town. It was a "freak" storm because the weather report indicated clear skies for the region that day. The home was at its most vulnerable because the contractor had just removed all the old shingles. And, because the storm came up so quickly, the contractor didn't have time to tarp the roof completely before the storm.
Gallons of rain water landed in the homeowner's attic. On the surface, it didn't look too bad. . . .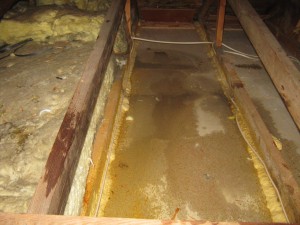 But when the tarp and wet insulation were removed, the full extent of the damage to the attic was apparent.
And the storm water, being water, traveled from the attic and soaked through the wall board.
All the second floor bedrooms had ceiling water damage!

What's interesting is that this roofer – and his insurance company – were able to save thousands of dollars by contacting us.
The contractor was worried that the damage would require extensive demolition and repair.
But, because he called us as soon as the storm had passed, we were able to begin the drying process immediately.
We dried everything in place!
And, because of our ability to do accurate moisture mapping, we were able to ease the worry of the homeowner about the potential for mold growth. Mold can't grow when there's no moisture.
So, if you, or a contractor you know needs help solving problems related to property damage, give us a call at 877-750-7876. We're here for you 24 hours a day, 7 days a week.
PuroClean Emergency Recovery Services – Your trusted resource for contractors, homeowners and insurance agents in Philadelphia and Southern New Jersey!