What do you do when:
1. You're the property manager for a business in Delran, NJ
and 2. smelly, health-threatening sewage backs up into your store, filling every aisle and storage room
and 3. it's after normal business hours, 10 minutes before closing time?
You call the local property damage restoration experts of PuroClean Emergency Recovery Services, of course!
Our story begins one evening a couple months ago.
The store manager of a business in Delran, NJ was almost ready to close up shop for the night.
Suddenly, a toilet in the back of the store erupted, spraying nasty sewage everywhere. No none knows what caused the back up.
But, the force of the back up was enough to blow the contamination almost to the front of the store.
The store manager kept her head. First, she called the property management company.
Then, she evacuated all the customers and employees, getting them out of harm's way.
The property manager called a plumber to clear the line.
Then, she called the IICRC certified local experts of PuroClean Emergency Recovery Services.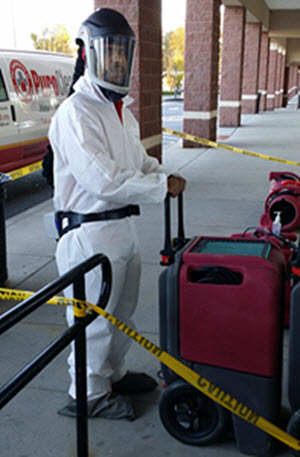 We have the technology and the equipment to provide emergency sewage cleanup and answered the call in minutes.
In a matter of hours, we got the store clean, dried, and sanitized with a minimum of down-time, so this Delran business could open again with a limited loss of income.
Consider this:
If you live or work in Delran, NJ, because our base of operations is in your town, we can be there in minutes from the time you make that call.
And, we've helped hundreds of homeowners and businesses throughout the Greater Philadelphia region recover fast from all kinds of water damage, including floods, storm water damage and of course, sewage backups.
When homeowners, business owners and property managers need emergency sewage cleanup in Delran, NJ they know to call the Paramedics of Property Damage™ PuroClean Emergency Recovery Services!