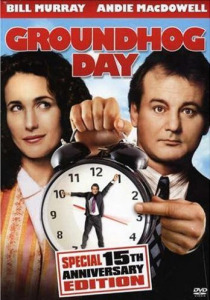 Happy Groundhog Day to all our friends, family, and customers!
Whether or not Punxsutawney Phil sees his shadow this year, the weather predictions have already started to suggest we're not going to be done with winter for a while.
And our friends over at Weather NJ – whom we consider to be the most accurate resource for weather related reporting for our Philadelphia and Southern New Jersey region have predicted at least 5 upcoming storm events in the next 28 days.
What that means for all of us is that we need to take steps preventing winter water damage to our businesses and homes. Because prevention is much cheaper than fixing damage after it occurs!
To help you prevent water damage to your home or business, we have provided information for you to
1. prevent frozen and burst pipes 
2. And prevent water damage from ice dams
3. And protect yourself from water damage from clogged flat roof top drains
But if you haven't been successful preventing winter water damage to your home or business, take heart! We're here to help!
We're the experts to call in Philadelphia, Cherry Hill, and the surrounding areas to get you clean, dry and sanitized fast so no mold will grow.
And, we'll work with your insurance company to make sure that things go smoothly, even in winter.
As fans of the movie "Groundhog Day" starring Bill Murray, we know things aren't ever as bad as they seem.
According to this video by "What Culture," things could be much worse!
We could be stuck in an infinite time loop like the movie's main character Phil, repeating the same day over and over again.
Have you ever wondered just how many days Bill Murray spends stuck in Groundhog Day? Well, here you go:

So you see, it could be much worse!
So, while there's nothing we can do to hurry Spring along, we can help you with all things related to winter weather property damage. Whether it's burst pipes, ice dams, or clogged drains we're here to rescue your property.
Just keep our number programmed into your cell phone:

877-750-7876.
We are Puroclean, The Paramedics of Property Damage®.
And we're here for you 24 hours a day in Winter, Spring, Summer, or Fall for all your property damage restoration needs!
Save