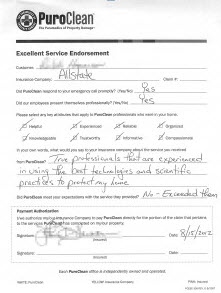 We were referred to this customer by his insurance agent for help in cleaning up water damage caused by a broken pipe in his home.
What this satisfied customer had to say:
"True professionals that are experienced in using the best technologies and scientific practices to protect my home"
When broken pipes flood your home with water damage, we understand it can be a traumatic experience. It's hard to know where to start to stem the tide of the flood.
And, it's hard to know who to trust!
When you call us in to solve your emergency water damage problems, you know you can depend on our IICRC certified technicians to handle the job with expertise.
Hear what our owner, Harry Allcroft, has to say:

PuroClean Emergency Recovery Services is for you 24 hours a day, 7 days a week to stop water damage from creating toxic mold damage by getting you clean, dry and sanitized quickly.
We work with you every step of the way to satisfy your insurance claim with the latest estimating and invoicing technologies to keep you and your insurance agent in the communication loop.
And our expert work in the communities we serve has become the water damage restoration standard for homeowners, business owners, property managers, insurance agents and realtors.
If you, or someone you know, has problems with flooding or water damage in the greater Philadelphia area, remember our name and give us a call
PuroClean Emergency Recovery Services 877-750-7876.
You'll be glad you did!