[vc_row][vc_column][vc_column_text]
All water damage to your home or business can be traumatic, but especially when it happens when you're away on vacation.
It feels like such an insult to be met with a tidal wave of water at your front door when you've just returned, all relaxed and happy from a holiday visit with family.[/vc_column_text][/vc_column][/vc_row][vc_row][vc_column width="1/3″][vc_column_text]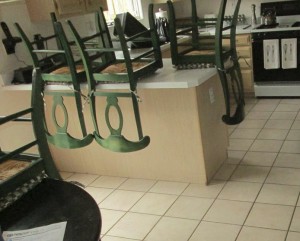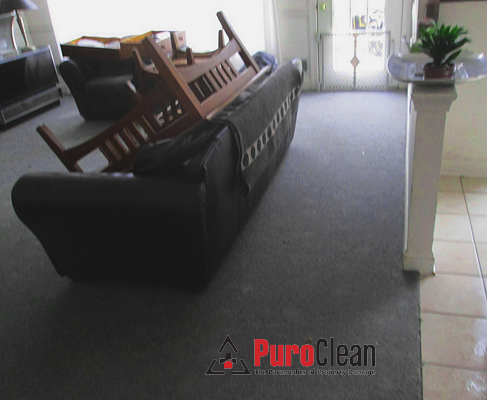 [/vc_column_text][/vc_column][vc_column width="2/3″][vc_column_text]And that's exactly what happened to this family in Burlington, New Jersey. . .
They went away for the Thanksgiving holiday – only 3 days! And came back to a flooded home . . .
It's not their fault . . . they had no way of knowing that a pipe behind their wall would break while they were away.
It wasn't caused by frozen burst pipes – it appears to have been caused by a faulty plumbing fixture.
But now their home is filled with gallons of water and no mop or bucket can take care of the problem.
These homeowners knew they needed help and were smart enough to call for it.
But, in the time it takes our water damage remediation professionals to get to you, would *you* know what to do while you wait?
So here's the list of 7 tips for you to begin the process of recovery after water damage to your home or business:
1. Think Safety First!!
While you wait for help with water damage, slips, falls and electrocution are the 3 biggest immediate hazards.
Protect yourself from potential accidents that could add injury to the insult of vacation water damage by moving slowly and carefully in waterproof footwear (rain boots will do!) and turn off power to the affected rooms at the circuit breaker on the electrical panel – if you can reach it safely. Whatever you do, don't enter rooms with standing water until the electricity has been turned off!
2. Next, shut off the source of the water at the main coming into your home or business. But only if you can reach it safely.
3. Once the risk from electrical shock has been eliminated, wipe excess water from wood furniture and prop it up to prevent further damage.
If the furniture is too large to move, place pieces of aluminum foil or plastic under the legs to keep it away from the water.
4. Unplug and Remove all electrical appliances from the area.
This includes lamps, TV's, computers, fans. Don't use them again until they have been dried and inspected for damage.
5. Move paintings, art objects, documents, books, and valuables to a safe place.
And, while you're at it, gather up any loose items from the floor.
[/vc_column_text][/vc_column][/vc_row][vc_row][vc_column][vc_column_text]
6. Don't try to use a household vacuum cleaner to remove the water
– an electric shock could make it a really bad day.
7. Don't let kids or pets play in the water.
Standing water may contain bacteria or other contaminants that could make them sick.
Whatever you do don't panic!
Things might look bad, but you've done the right thing calling the
Paramedics of Property Damage ®
We'll get you clean, dry, and sanitized in the shortest time possible. And we'll take photos of every stage of the work we do for you and communicate with you and your insurance company every step of the way.
For emergency help with water damage clean up in the Greater Philadelphia and Southern New Jersey Region, call 877-750-7876
[/vc_column_text][/vc_column][/vc_row]