Because we've had such a long hard winter, and because there have been so many people in our Greater Philadelphia and Southern New Jersey region who have been

affected by water damage from burst pipes

,

the chances for toxic mold growth in your home have increased exponentially!
So here's a great infographic that details where toxic mold is most often found in the home – and it's causes: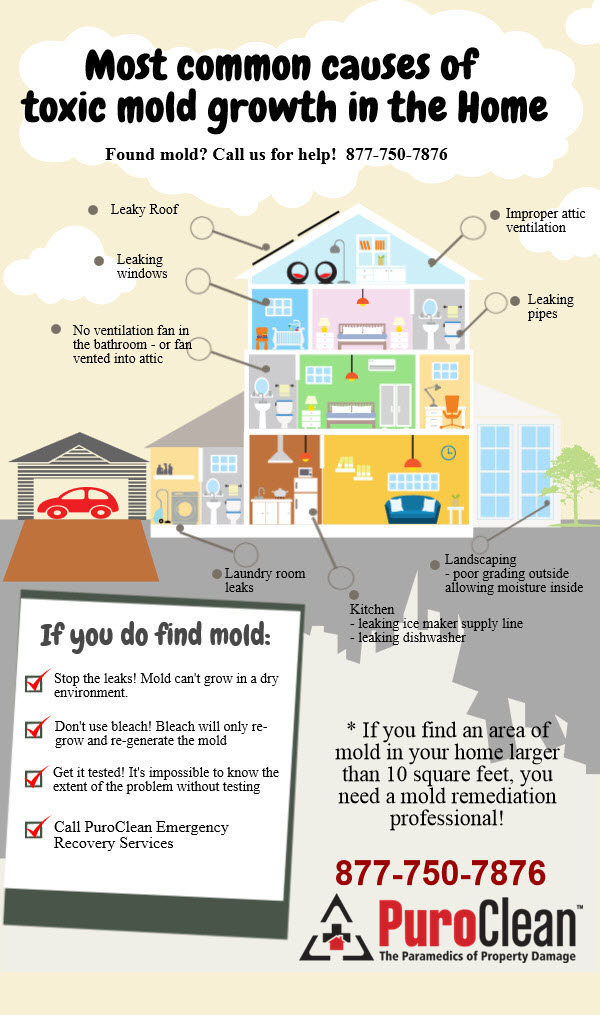 Here at

PuroClean Emergency Recovery Services

, we're all about prevention!
Because mold can't grow without moisture, moisture control is key to prevention!
The average mold remediation job can cost thousands of dollars.
But, you can save yourself some money and protect your family from the heartache of sickness from mold exposure.
Here's a list of the most common places and common causes for mold growth in your home. Correcting the moisture problems in these areas now can prevent mold growth as the weather starts to warm – and save you lots of money.
1. Leaking roof causing moisture in the attic.
This can be caused by winter ice damming, or storm damage from wind an hail.
3. Poor ventilation in the bathroom trapping moisture allowing mold to grow on the walls.
5. Plumbing leaks in bathrooms. Sometimes these leaks are so slow, the only indication of a problem is when mold shows up!
6. Leaking water supply lines to washing machines leading to mold growth in your laundry room.
7. Dishwasher supply line or drain line leaks in your kitchen. Leaking ice maker supply lines
8. Poor grading from landscaping allowing water to drain toward and into the home instead of away from the home.
And last but not least:
9. One of the most common causes of mold growth happens when a burst pipe causes water damage in the home and it's not dried quickly enough.
And, with the really hard winter we've had this year, many homes have been hit with burst pipes and burst water heaters.
Many enterprising do-it-yourself homeowners have patiently and quietly tried to take care of the problems themselves.
However, simply using a shop vacuum to remove the water isn't enough.
Why?
Because water can wick up the walls and into the insulation within 24 hours!
In addition, without proper de-humidification, sanitizing with anti-microbial solution, (not bleach!) and monitoring, all that water left inside the walls is one of the most common causes of mold!
Because many of these types of water damage are hidden, here's your sign indicating that you may need a trained professional to assess your home for mold damage:
if you smell a musty odor
or if you see visible signs of mold that returns within days after cleaning
or if you see mold that covers more than 10 square feet
and especially if you or your family members suffer from chronic upper respiratory problems like sinus infections or asthma
or if you have recently been diagnosed with chronic fatigue syndrome
or if you or someone you love has recently been diagnosed with Alzheimer's Disease
Then it's time to give us a call!
So, if your Philadelphia or Cherry Hill area home experienced a burst pipe this winter, or you or your family is experiencing any of these signs and symptoms, and you haven't had a professional assess the extent of the damage, give us a call at 877-750-7876 and we'll be happy to come an take a look.