[vc_row][vc_column][vc_column_text]
[/vc_column_text][/vc_column][/vc_row][vc_row][vc_column width="1/3″][vc_column_text]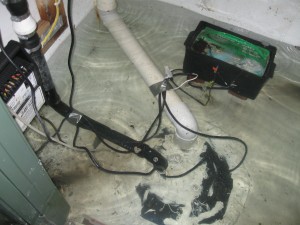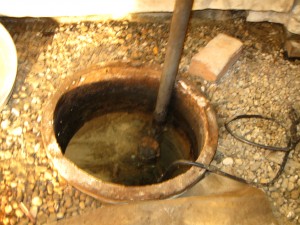 [/vc_column_text][/vc_column][vc_column width="2/3″][vc_column_text]We've got longer days, brighter sunshine,  even with the chill in the air, so we know Spring is finally here!
But this is also the time of year when water is most likely to seep into your basement too. Spring rains, snow melt, and frozen ground often combine to create the perfect conditions for water damage to Philadelphia area basements.
Homeowners depend on sump pumps to keep their basements and homes dry. Unfortunately, rain storms and power outages also go together.
Once the power goes out, if you don't have a battery back up, a sump pump failure can allow flood water to enter your home and cause thousands of dollars in damage.
If you have an electric sump pump with no back-up system, and you haven't checked it recently, your sump pump may fail just when you need it most![/vc_column_text][vc_column_text]
The 8 most common reasons why your electric sump pump may fail:
1. A power outage.
2. The pump may be burned out, unplugged, or jammed with mud, stones or small toys volunteered by the children in the home!
3. A broken impeller or drive shaft.
4. The float switch is stuck or broken.
5. A tripped circuit breaker, a blown fuse, or damaged power feed line.
6. Too much water coming in too fast for the pump to handle causing your sump to shut down.
7.  A clogged or frozen discharge pipe.
8. The sump basin is too small.  (*Homeowner tip #1:  a residential sump basin should have a minimum inner diameter of 18 inches and should be at least 22 inches deep.)*[/vc_column_text][/vc_column][/vc_row][vc_row][vc_column][vc_column_text]
A sump pump failure can lead to thousands of dollars in water damage to your home!
So, here are 3 easy steps to take to make sure you are protected:
The first rule for preventing water damage due to sump pump backup: 

keep your sump pump clean.
Clogging is a major issue in sump pump maintenance. At least once a year check and clear dirt, debris and other foreign objects blocking in the inlet screen (this includes plastic toy army men or legos inserted by curious and creative children!)
(* Homeowner tip #2:  To properly clean your sump pump, use a pair of rubber gloves to remove all debris. Next, take a garden hose and fill the pump with water. As you fill the pump with water, the float will rise causing the pump to activate again. If your float rises but doesn't start the system, it is time to consult the troubleshooting section in your sump pump manual.)*
Second, always, always, always
have a battery backup for your sump pump!
Consider getting a water powered sump pump. Ultra-reliable, these back up pumps have no battery, motor, or moving parts to wear out. They are fully automatic – and start pumping when needed, whether you're home or away.
Third,
check with your insurance agent

to make sure your policy carries an endorsement or language covering your home (or business!) after a sump pump failure.

Too often homeowners and business owners are confronted with the tragic truth that they have no coverage for water damage only after a water loss has occurred.
Taking these tips now can save you time, money and aggravation during our Spring rains!
And remember: if you need emergency water extraction, expert help from
PuroClean Emergency Recovery Services

is only a phone call away!

Call 877-750-7876


We can get you cleaned, dry, and sanitized from water damage before the toxic mold starts to grow!

[/vc_column_text][/vc_column][/vc_row]