[vc_row][vc_column width="1/2″][vc_column_text]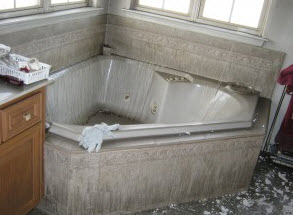 [/vc_column_text][/vc_column][vc_column width="1/2″][vc_column_text]
October is Fire Prevention Month!
And this year's theme from the National Fire Protection Agency is "Have 2 ways out"
But, what if the worst should happen? Would you know what steps to take if you had a fire at your property?[/vc_column_text][/vc_column][/vc_row][vc_row][vc_column][vc_column_text]
Did you know that within hours of a fire in a home or business metal fixtures and faucets begin to corrode from smoke damage?
And, did you also know that within 48 hours of fire water damage, your property can begin to grow mold?
If you do have a fire at your property, whether it's a home or business, here's a quick check list of do's and don'ts to deal with smoke damage:
1. DO: Contact your insurance company and agent immediately
2. DO: Contact PuroClean Emergency Recovery Services at 877-750-7876. Our professional team will begin the fire and smoke clean -up process to ensure that your property doesn't sustain further damage.
3. DO: Wash your house plants' leaves on both sides with softened water.
4. DO: Shut off the ventilation systems and contact a licensed HVAC contractor before turning it back on.
5. DO: Discard opened food items or packaged food and drink that was exposed to the smoke.
6. DO: Empty the refrigerator and freezer and prop open the doors
1. DON'T: clean or paint walls – cleaning can cause the soot and smoke damage to set permanently.
2. DON'T: clean carpets or upholstery as these items may contain carcinogenic materials from the fire. A special process must be used to return these items to a safe condition.
3. DON'T: clean or repair electrical appliances – they need to be examined by a licensed and trained repair technician.
4. DON'T: launder or dry clean clothing. Smoke damage must be cleaned with a special process in order to remove carcinogens that may have been generated by the fire.
5. DON'T: turn on ceiling fixtures or electrical lights until a licensed electrician has been able to inspect the property.
6. DON'T: enter rooms where ceilings may be sagging due to a build-up of water.
By taking these steps after fire and smoke damage to your property, you can begin the process of recovery!
And remember for all your fire and smoke damage cleanup needs in Philadelphia and Southern New Jersey call 877-750-7876[/vc_column_text][/vc_column][/vc_row]