PuroClean Emergency Recovery Services helps families of hoarders in the Greater Philadelphia region with the crisis of hoarding cleanup
Recently, our company was called out on a fire call to do fire damage restoration services at a home in Philadelphia. We have gone on many such calls in the last 7 ½ years. However, this call was different. When we arrived, the fire department was just leaving, after having satisfied themselves that this building was no longer at risk for burning. What we found inside was daunting. Every room in this small two bedroom one bathroom home was filled with "stuff."
But, when I say filled, I mean from the floor to the ceiling in every room, including the bathroom.
So much "stuff" that there was no place to walk except through narrow 18 inch pathways to and from each room.
Imagine piles and piles and stacks of stuff – discards from daily living: Pizza boxes, soda bottles, opened cans food, books, papers, magazines, and clothing. All of this mixed in with pet toys, pet excrement, and pet odor.
We had been called out to the home of a hoarder.
So shocked by what we found in the house in Philadelphia, I started to do a little research. What I discovered is that hoarding is a natural tendency in all animals, including humans. However, for some individuals, the tendency goes awry for lack of internal mental and emotional controls.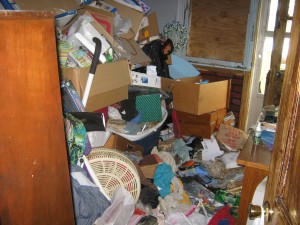 So how does the natural hoarding tendency work?
It goes like this: imagine you have a pair of jeans that you love. You've had these jeans for several years and they've been with you during some of the best times of your life. You've worn them well. Now, you've worn them out. So now, you don't wear them at all because there are holes in inappropriate places that can't be seen in public. However, you're loathe to get rid of them because of all the happy memories you associate with wearing them. So, they stay in the bottom of your drawer, underneath your new jeans.
Admit it, we all have something like that in our homes.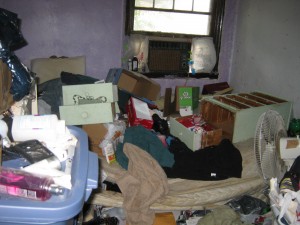 Media accounts of hoarding have a long history in the United States going back to the Collyer brothers who both died in March of 1947 in their Harlem mansion because they starved and were smothered by their "stuff." Recently, the 2009 show Hoarders that airs on A&E and the 2010 documentary Hoarding: Buried Alive that airs on TLC, have raised public awareness of hoarding and its dangers. Along with the "fire trap" danger we witnessed in the Philadelphia home, there is also a danger of disease and infection from rodent and pest infestation.
 
There is now a diagnosis for "hoarding diagnosis" listed in the DSM-V, the psychiatric "bible" of diagnostic and statistical information used to categorize mental illness.
Many professionals were stumped because unlike typical obsessive-compulsive disorders, people who exhibit hoarding behaviors don't respond to standard antidepressant drug treatment. So, a new formal diagnosis was created so that research and treatment methods would be developed for people who forget how to let things go.
What makes hoarders different from the rest of us is the immediate physical danger, pain and suffering they have created for themselves in the present because they have been trying to avoid the pain and suffering of letting go of the past.
For many people, the hoarding behaviors don't start until later in life. After an aged mother or father dies, the family arrives at the home of the deceased parent only to find that they have to clean out the stock-piled memories of their parent's lives. And then it's time to clean out so the home can be sold. For others, the tendency to hoard begins as early as age 12.
For the couple living in the Philadelphia home with the fire, no one knows when the hoarding tendency started. The family member who owned the home was shocked when she saw the property.
We did what we do best: assisting the homeowner and the residents with caring and compassion by taking the time to educate them about the process of hoarding cleanup and the steps we were going to take to bring the property back to habitable conditions.
There is still much work to do on this property and I will keep you posted in a future blog to let you know how it's going.
Unfortunately, our work is only the first step. Rehabilitating the home by completely clearing the debris and cleaning and repairing the structure will only return it to use by the homeowner. The residents will need to seek rehabilitation too so that the hoarding problem doesn't come home with them when they move back in.
There are several websites (http://childrenofhoarders.com) dedicated to assisting hoarders and their families with the overwhelming task of hoarding cleanup. And now, many cities in our region have municipal task forces assigned to assist hoarders and their families if only to prevent fires and the spread of disease.
So if you or someone you love has a problem with hoarding in the Philadelphia area and would like help, we've listed some of the mental health professionals in our area with their contact information who specialize in treating hoarding disorders. This is not an exhaustive list, but information I obtained through the http://childrenofhoarders.com website.
If you know of other mental health resources in the Greater Philadelphia and South Jersey area, please contact us and we will include that information here as well.
For people under 60 years of age, call 215-751-1800
For people 60 years of age and above, call 215-545-5728
BB's Clutter Solutions, LLC
Barbara Berman
www.bb-clutter-solutions.com
856-912-0077
Christine Molnar, PhD
Center for Mindful Exposure Therapy of Anxiety & Psychological Wellness
1800 Horace Ave
Ground Floor
Abington, PA 19001
Phone: (267).287.8347
Email: Chris@molnarpsychology.com
Website: www.meta4stress.com
Lori J. Kasmen, PsyD
Anxiety & Agoraphobia Treatment Center
112 Bala Avenue
Bala Cynwyd, PA 19004
email: lkasmen@gmail.com
Phone: (610) 667-6490
Linda B. Welsh Ed.D. AATC
112 Bala Avenue
Bala Cynwyd, PA 19103
Phone: (610).667.6490
Email: lindawelsh@aol.com
Peter G. Aubuchon, PhD
One Bala Avenue – Suite 230
Bala Cynwyd, PA 19004
Phone: (610) 667-6055
Shelley Milestone, PhD
30 Sanringham Road
Bala Cynwyd, PA 19064
Phone: (610) 664-6993
Steven Adelman, PhD
8302 Old York Road – Suite 2
Briarhouse
Elkins Park, PA 19027 (Also an office in Philadelphia)
Phone: (215) 884-4557
Email: adelman25@aol.com
Shelley Milestone, PhD
255 S. 17th Street #1907
Philadelphia, PA 19103
Phone: (610).664.6993
Email: smilestone@comcast.net
Edna B. Foa, Ph.D.
University of Pennsylvania
Philadelphia, PA
215-746-3327
Martin E. Franklin, Ph.D.
University of Pennsylvania
Philadelphia, PA
215-746-3327
Johanna H. Gorman, MD
45 Ridge Road
Phoenixville, PA 19460
Phone: (610) 933-7749
Fax: (610) 935-4947
Sally A. Allen, MS.Ed
Rosemont Counseling Associates
1062 Lancaster Avenue – Suite 9
Rosemont, PA 19010
Phone: (610) 525-1510
Fax: (610) 525-2586
Website: www.rosemontcounseling.com
Judith Kolman, PhD
Rosemont Counseling Associates
1062 Lancaster Avenue # 9
Rosemont, PA 19010
Phone: (610) 525-1510
Marilyn Barkan-Wood, M.Ed, LPC
BTI Graduate
990 Congress Street
Whitehall, PA 18052
Phone: (610) 821-8929
David A. Raush, PhD
215 East Laurel Rd., Suite 201
Stratford, NJ 08084
(856) 482-5860
Email: Daraush@aol.com
Perry H. Zand, MD, PC
620 N Broad Street – 2nd Floor
Woodbury, NJ 08096
Phone: (856) 662-1122
Fax: (856) 429-4212
Bucks County Office on Aging
30 E Oakland Avenue
Doylestown, PA 18901
215-348-0510
aging@co.bucks.pa.us
http://www.buckscounty.org/seniors/
Burlington County Office on Aging
795 Woodlane Road
PO Box 6000
Westhampton, NJ 08060
609-265-5069
BCOfficeonAging@co.burlington.nj.us
http://www.co.burlington.nj.us/
Camden County Division of Senior and
Disabled Citizen Services
700 Browning Road
Parkview on the Terrace, Suite 11
West Collingswood, NJ 08107
856-858-3220
CCDSDS@camdencounty.com
Philadelphia Corporation for Aging
Wallace Building
642 N. Broad Street
Philadelphia, PA 19130-3049
Helpline: 215-765-9040
http://www.pcacares.org/default.aspx
Senior Care – Camden
1000 Atlantic Avenue
Camden, NJ 08104
856-246-3350
http://www.seniorcarenj.com/camden/
Senior Care – Delran
8008 Route 130 North
Building B, Suite 300
Delran, NJ 08075
856-461-1700
http://www.seniorcarenj.com/delran/
Senior Care – Center City Philadelphia
2115 Sansom Street
Philadelphia, Pa 19103
215- 561-2733
http://www.paseniorcare.com/centercity/
Senior Care – North East Philadelphia
9475 E. Roosevelt Blvd.
Philadelphia, Pa 19114
http://www.paseniorcare.com/northeast/
215-676-7800
Senior Helpers – Burlington
9 Garden Street, Suite 206
Mt Holly, NJ 08060
(609) 261-2995
http://www.seniorhelpers.com/mtholly/service-areas
Senior Helpers – Camden
70 Lacey road
Manchester, NJ 08759-2931
(732) 657-3600
http://www.seniorhelpersnj.com/
Senior Helpers – Cherry Hill
1060 N. Kings Highway, Suite 100
Cherry Hill, NJ 08034
(856) 216-1920
http://www.seniorhelpers.com/cherryhill
Senior Helpers – Philadelphia
737 West Chester Pike
Suite 5
Havertown, PA 19083
610-789-4700
info@seniorhelperspa.com
http://www.seniorhelperspa.com/senior_helpers_philadelphia.php