As Ben Franklin used to say, "A penny saved is a penny earned." Right? Well maybe. Except when trying to save a little money ends up costing you a lot in health and fire dangers!
With Christmas just around the corner, everyone wants to save a little money. But, Philadelphia and South Jersey area residents are being warned to be aware of counterfeit goods flooding the market.
These include make-up, perfume, toys and clothes, and alcohol. All of these items pose serious dangers to your family's health.
Why?
Because counterfeit make-up often contains poisons like lead, copper, mercury, arsenic or cadmium.
And because fake alcohol often contains traces of poisonous methanol, antifreeze and fuel.
And children may be in danger from knock-off toys that have small, loose parts and clothes made from toxic materials.
All of these items can cause problems ranging from rashes and swelling to nausea and stomach pains, coma and sometimes even death.
But one of the biggest problems caused by counterfeits comes from fire dangers in Christmas decorations.
If you find electrical products and decorations far below competitor prices, remember the saying, "If it's too good to be true, it usually is!"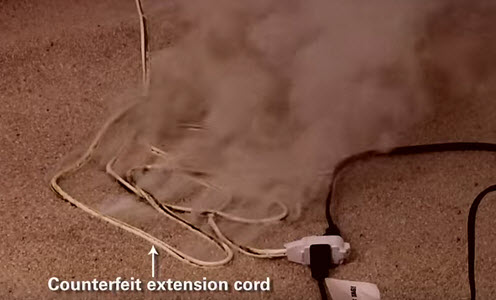 The fire dangers from counterfeits start with missing and poor-quality components in cords and decorations. Because they weren't tested by an independent laboratory, they don't comply with industry safety requirements. All of this leads to electric shocks, fires and explosions. And since their origins are unknown, the manufacturer isn't held accountable for the potentially deadly results. That makes counterfeit extension cords and Christmas decorations one of the biggest fire hazards during the holidays.
Don't let this be you!
Protecting ourselves from health and fire dangers during the holidays is everyone's responsibility.
The Electrical Fire Safety International group suggests 5 Steps to take to protect yourself from Christmas Counterfeits:
• First, use established vendors who purchase their goods from legitimate distributors and genuine manufacturers.
• Second, read the packaging and labels carefully. One of the biggest hints that the item is counterfeit are grammatical errors and conflicting information on the labels.
• Third, look on the package for the name and contact information of the manufacturer. If the package doesn't display brand affiliation, leave it on the shelf!
• Fourth, check the package for the UL label.
• And finally, do your research. The Consumer Product Safety Commission (CPSC), CSA Group, and Underwriters Laboratories (UL) all provide information about product recalls, including those related to counterfeiting, on their websites.
If you think you've become a victim of a counterfeit Christmas products scam, here's what to do:
1. Contact your local police department if you bought it from a local vendor
2. If you purchased the product on the internet contact the FBI's Internet Crime Complaint Center
The team at PuroClean Emergency Recovery Services wishes you and yours all the best for a safe, happy, and healthy holiday!
Save