[vc_row][vc_column][vc_column_text]Every year September is set aside as National Preparedness Month (NPM) with local, regional, and national activities. All of this leads up to National PrepareAthon! Day on September 30th.[/vc_column_text][/vc_column][/vc_row][vc_row][vc_column width="1/2″][vc_column_text]


Save[/vc_column_text][/vc_column][vc_column width="1/2″][vc_column_text]National Preparedness Month serves as a reminder to take action to prepare, now and throughout the year.
Why have an emergency preparedness month? Because preparedness planning works. Prepared people increase a community's resilience and recovery after disasters.
Because last year's theme "Don't Wait, Communicate. Make Your Emergency Plan Today!" was so successful, it's returning for an encore this year.
Why?
Because disasters are a time when communications break down the most![/vc_column_text][/vc_column][/vc_row][vc_row][vc_column width="1/2″][vc_column_text]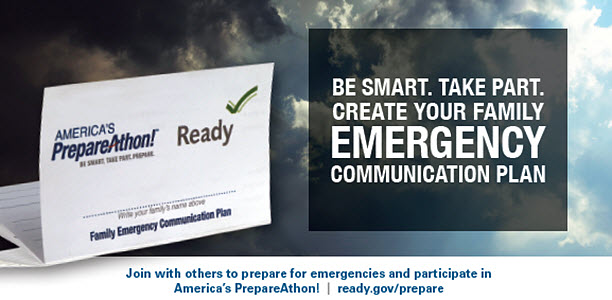 It's not enough to have your plan in your head. During chaotic times, having a written plan is best.
[/vc_column_text][/vc_column][vc_column width="1/2″][vc_column_text]And there's another reason for this year's theme.
You and your family might not be together if a disaster strikes.
So, it's important to think about different situations and make a plan just in case.
What's the best way to do that?
Ask questions![/vc_column_text][/vc_column][/vc_row][vc_row][vc_column][vc_column_text]Questions like:
How will we get emergency alerts and warnings?
How will my family get to safe locations in emergencies?
What can we do to get in touch if cell phones, internet, or landlines don't work?
How will I let loved ones know I am safe?
How will we get to a meeting place after the emergency?
If those questions got you thinking, here are the 6 easy steps to participate in National Preparedness Month and start creating your emergency communication plan:
1. First, understand how to receive emergency alerts and warnings.
Alerts received at the right time can help keep you safe during an emergency.
With Wireless Emergency Alerts (WEA), warnings can be sent to your mobile device.  The alerts let you know  when you may be in harm's way without needing to download an app or subscribing to a service.  For more information visit www.ready.gov/alerts
So, make sure everyone in your home is able to get alerts about emergencies from local officials. That way you can receive lifesaving information no matter where you are – at home, at school, or at work.
In our Greater Philadelphia region, you can get real-time notifications through ReadyPhiladelphia. This is our region's emergency text and email alert system.
So you can stay on top of important updates, you can register online here. The alerts are free. However, your wireless provider may charge for text messaging.
Also, you can follow Philadelphia's Office of Emergency Management (OEM) posts online. 
The OEM posts real time updates on all these social media sites:
2. Next, discuss family/household plans for disasters that may affect your area and plan where to go.
Plan together in advance. That way everyone in your household understands where to go during a different types of disaster like a hurricanes, tornadoes, or floods.
3. Now, it's time to collect information.
Create a paper copy of the contact information for your family that includes:
phone (work, cell, office)
email
social media
medical facilities, doctors, service providers
school
In addition, you can download and print out the Ready.gov communication plans here:
Family Communication Plan
Family Emergency Plan for your wallet
And, while you're collecting information, program our number 877-750-7876 into your cell phone and write it down on your plan too!
Most of all, remember:  whether it's a natural disaster like a hurricane, flood, or a fire in your home, the faster you call us after a disaster, the more quickly we can get your property back into action.
4. Next, pick emergency meeting places.
Here are some things to consider:
First, decide on safe, familiar places where you and your family can go for protection or to reunite.
Next, make sure the places you pick are accessible for members of your family with disabilities.
And finally, if you have pets or service animals, consider animal-friendly locations.
Here are some examples of meeting places:
Close to home: a mailbox at the end of the driveway, or a neighbor's house.
Outside of your neighborhood: library, community center, place of worship, or family friend's home.
Outside of your town or city: home of a relative or family friend. Make sure everyone knows the address of the meeting place. And then, discuss ways you would get there.
5. Now, share the information.
First, make sure everyone in your family carries a copy in backpack, purse, or wallet. Then, post a copy of your preparedness plan in a central location in your home, like your refrigerator or family bulletin board. This helps keep preparedness top of mind.
6. Practice makes perfect, so practice your plan.
If you have a plan but nobody remembers it, it's not very successful is it? Therefore, have regular household meetings, not just during National Preparedness Month. Review your emergency communication plans and meeting places after a disaster. And then practice the plan, just like you would a fire drill.
All of these steps will help you and your family in the event the unthinkable happens. And practicing the steps will get you back on the road to recovery fast, while keeping you and your loved ones safe.
[/vc_column_text][/vc_column][/vc_row][vc_row][vc_column][vc_column_text]Here at PuroClean Emergency Recovery Services we're dedicated to helping you and your family stay safe during National Preparedness Month and every month! We're proud to be your partners in preparedness planning for the communities we serve in the Greater Philadelphia and Cherry Hill region.[/vc_column_text][/vc_column][/vc_row]