[vc_row][vc_column width="1/2″][vc_column_text]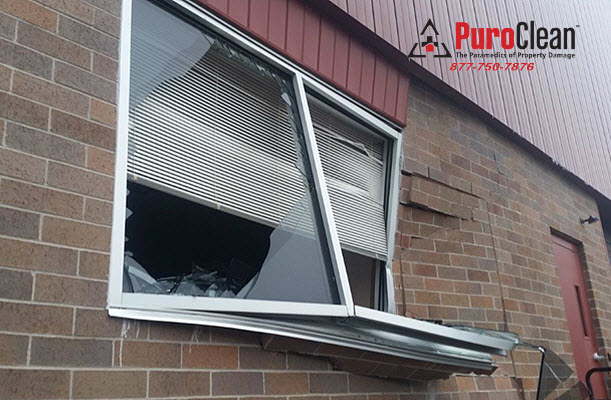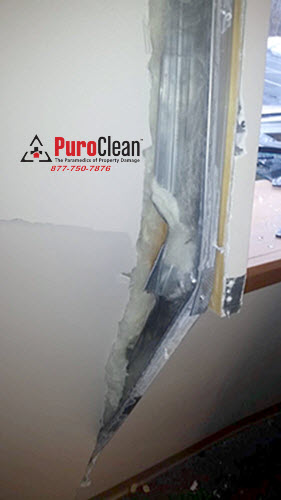 [/vc_column_text][/vc_column][vc_column width="1/2″][vc_column_text]What do you do when:
And a 10-ton garbage truck backs up into your property
Leaving a gaping hole in the side of your building?
We dispatched our team immediately and they were onsite within 60 minutes.
Then, we assessed the extent of the damage.
Not only was the window smashed, but the building envelope itself was severely damaged.
When we saw how much damage there was to the interior of the building, it made us wonder, "exactly how fast was that dump truck going when it backed up into the building?"
Standard board up solutions wouldn't have worked in this case.  The  property was built with structural steel.  While steel is a great building material in most cases, it doesn't like to bend. And, the garbage truck created a concave bent metal mess on the interior of the building!
In order to create a structure to install a barrier, we came up with a solution:  Install a temporary window casing and supports.
Then, we custom fit the barrier to the temporary casing using plastic sheathing and plywood. This blocked rain and snow coming in from the outside, and prevented heat escaping the inside.[/vc_column_text][/vc_column][/vc_row][vc_row][vc_column][vc_column_text]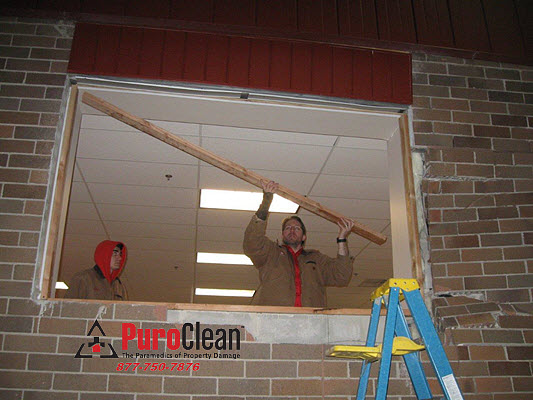 Commercial property board up completed – both inside and out!
Our commercial property boardup solution protected the building and the employees from the elements until permanent repairs could be made.
For help with commercial property board up – or any other property damage restoration needs –  in Philadelphia and Southern New Jersey call 877-750-7876
[/vc_column_text][/vc_column][/vc_row]