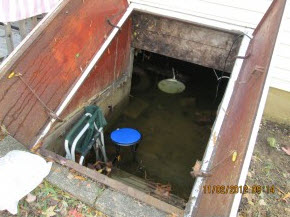 Calls are pouring in from across our region with homeowners and business owners needing help with the clean-up process after Sandy's devastating landfall this week. Like all the professional restoration companies, we're working around the clock to provide service and comfort to those most affected by the storm damage.
While everyone is waiting for the water and electric to be turned back on so professional remediation can begin, if your home or business has been flooded with storm water, there are several things you can do right now to begin the recovery process and clean up after Hurricane Sandy:
1. Protect yourself! Make sure you have safety equipment like boots, gloves, goggles and masks before entering a flood damaged building and only enter the building when local officials have given the okay. Flood water is considered Category 3 water – classified the same as sewage bio hazard – because your neighbor's fertilizer and dog poop got swept into your basement along with the flood. Taking these precautions now will help you avoid illness later in the recovery process.


2. Take pictures -of EVERYTHING before you throw anything out. This is essential in order to make a comprehensive insurance claim later on.
3. Remove items that have been soaked in flood water and that can't be cleaned and dried – this includes all soft furniture like mattresses and sofas.
4. To clean hard surfaces like tile that haven't soaked up water but may have been in contact with floodwater, first wash with soap and clean water. Next disinfect with a mixture of 1 cup of bleach in 5 gallons of water and allow to air dry.
5. Wash all clothes worn during the cleanup in hot water and detergent. These clothes should be washed separately from uncontaminated clothes and linens.
6. Wash other clothing and soft goods like blankets and towels that have been contaminated with flood or sewage water in hot water and detergent. Laundromats are best for washing large quantities of clothes and linens until your onsite waste-water system has been professionally inspected and serviced.
Here at PuroClean Emergency Recovery Services we're working diligently with people in our communities to restore properties and possessions to pre-Sandy conditions where we can! If you or your neighbors need help just give us a call at 877-750-7876. We're here 24 hours a day, 7 days a week to take your call and help you get back on your feet.