[vc_row][vc_column width="1/2″][vc_column_text]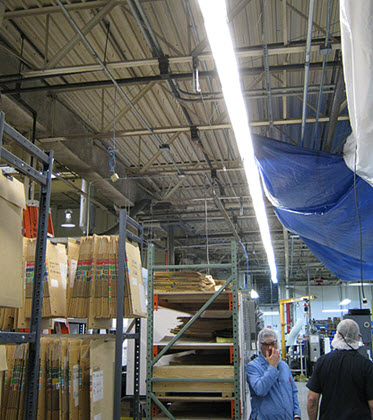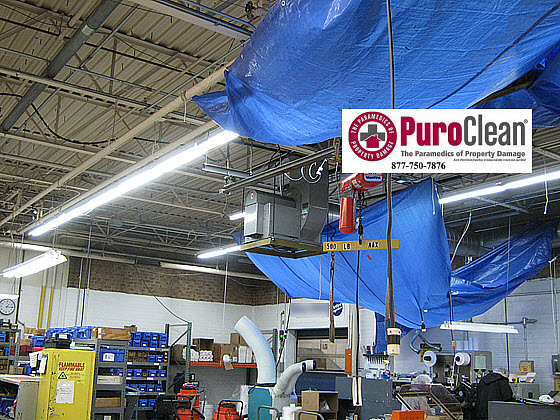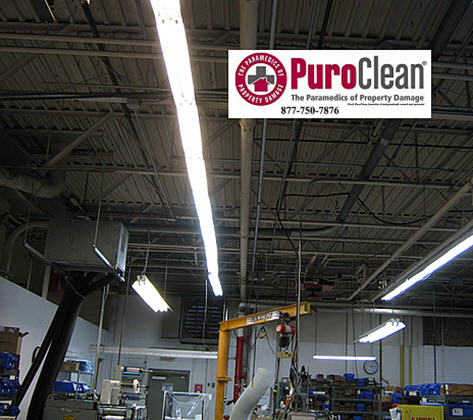 [/vc_column_text][/vc_column][vc_column width="1/2″][vc_column_text]What do you do when:
You're the facility manager of a manufacturing plant in Feasterville, PA
and
The flat-top roof repair on the outside creates a problem with dust and debris falling on everything inside, including nasty dirt in your "clean room
bringing work in your facility to a stand still?
You call PuroClean Emergency Recovery Services – of course!
As the story unfolded, the facility manager had done his due diligence contracting a company to repair and replace the failing roof at his manufacturing plant to prevent roof leaks.
But as the roofing company worked on the outside, vibrations shook dust and debris loose from the sub-roof. Work on the inside the facility came to a stand still.
The "clean room" where the workers completed products was becoming contaminated. Aside from the breathing problems the dust created for the workers, their finished product was no longer usable. Debris was becoming embedded in their sealed final products.
The facility manager knew he needed help beyond what his in-house janitorial team could manage.
We were able to provide fast, effective solutions for the facility manager by:
1. Creating negative air trapping the air-borne dust to keep it from contaminating other areas of the facility
2. Installing HEPA air filtration devices to filter the air-borne dust particles
3. Removing the debris with HEPA vacuums from every inch of facility – 11,000 square feet in all!
We completed all our work in just 2 days on a weekend, making sure that the manufacturing facility was up and running again on Monday morning.
Our solutions helped the facility manager save this business a lot of money in lost time and labor.[/vc_column_text][/vc_column][/vc_row][vc_row][vc_column][vc_column_text]
Our business exists to solve problems.
Sometimes it's for homeowners.
Sometimes it's for commercial property managers.
Sometimes it's for facility managers needing high dust cleanup for a busy manufacturing plant in Feasterville, PA.
For immediate 24 hour 7 day a week assistance with your commercial and industrial property damage restoration solutions call 877-750-7876
[/vc_column_text][/vc_column][/vc_row]