[vc_row][vc_column][vc_column_text]Years ago, during the housing boom, the practice of flipping houses was common. It was such a popular practice there were no less than 7 reality TV shows dramatizing the efforts of investors to fix homes fast and sell them for profit. The shows made it look easy, like anyone could do it! Then, the housing bust of 2008 left many people in dire straits with home values plummeting. And house flipping popularity and practice began to disappear from TV and real life too as investors struggled with the fact that they owned properties that no longer had the value they did when they were purchased before the crash.
Recently, there have been some promising indicators that the housing market is beginning to recover and home values are increasing, indicating to investors it might be time to start again. And, a couple new reality shows like Bravo Network's "Flipping Out" and HGTV's "Property Brothers" are becoming popular. According to RealtyTrac, a California-based firm that tracks foreclosures, New Jersey has one of the highest rates of foreclosure in June of 2016. In New Jersey 1 in every 610 housing units received a foreclosure filing.
So, with plenty of foreclosed homes left on the market from the housing bust still available, and with an increase in house values, investors are beginning to believe it might be a great opportunity to start flipping houses once more.
The concept sounds simple:
1. First, buy a house significantly below market value.
2. Then, fix it up.

And finally,
3. sell it for a profit.
The trick to flipping houses is finding a cheap house that only needs minimal repairs or upgrades.
In our 9-year history of performing property damage restoration we have been called in to assist several investors who flip houses with many different property damage restoration needs.
Some houses had slow leaks resulting in mold damage that needed to be remediated before the property could be sold. In other homes, a small fire required smoke and fire damage restoration.
We have helped these investors finish the projects on time, within budget, and with clearance so they could get to the closing table fast.
But, it has been our experience that not all investors do so well when they don't avoid the perils and pitfalls of flipping houses . . .
[/vc_column_text][/vc_column][/vc_row][vc_row][vc_column width="1/3″][vc_column_text]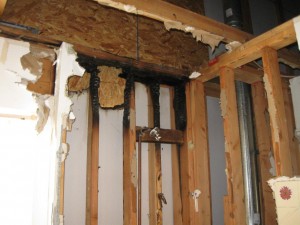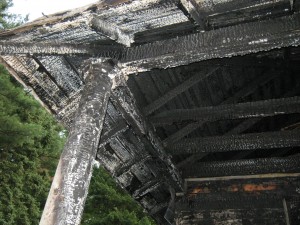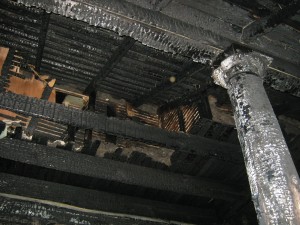 [/vc_column_text][/vc_column][vc_column width="2/3″][vc_column_text]Take for example the investor that purchased a home in Mt. Laurel New Jersey several years ago. The home was in a good location, appeared to be in structurally sound condition and wasn't close to any flood plains. So, thinking he was being savvy with his budget, the investor decided to forgo the purchase of insurance.
The investor and a friend decided that in order to get the best value from the sale of the house, they needed to upgrade the bathroom. The investor's friend assured the investor he knew everything he needed to know about plumbing, even though the friend wasn't a licensed plumber.
Unfortunately, when the friend began sweating pipes to take out the old plumbing, the wall caught on fire. Smoke filled the home. So, now instead of the cost for a simple bathroom upgrade, the whole home needed fire and smoke damage restoration. Because the investor had not purchased insurance that would have covered the costs of fire and smoke damage restoration, the profitability of the flip was severely limited.
The investor ended up paying out of pocket to cover the expenses of fire and smoke damage restoration in addition to the costs of the bathroom upgrade before he could put the house on the market.
Another example is the investor who purchased a 100-year-old home in Philadelphia for pennies on the dollar. She put all her life savings into the purchase of the home, so her budget for making repairs and upgrades was extremely limited. As a result, she decided to skip the expense of purchasing insurance.
She hired a friend to help her with the cheapest upgrade of all: paint. Unfortunately, the friend of the investor wasn't a professional painter and decided to remove the years of old paint on the front porch with a heat gun.
The 100-year old wood underneath the paint caught on fire and all but decimated the home.
Now, this woman's life savings and potential profit had gone up in smoke.
A third example is a man who purchased a home to flip because it was listed at one third the value – and the "comps" or the comparison prices of the surrounding homes were so good.
In elation and celebrating his good fortune of finding such a great deal, the investor forgot one critical step: getting a home inspection.
He hurried to the bank, closed on the property with cash, only to find out a few weeks later that the home had not one, but two underground storage tanks leaking into the ground around the home.
Now this investor's great find is costing him tens of thousands of dollars to remove the tanks and remediate the soil. And, he may never be able to bring it to market due to state and local ordinances governing soil contamination.
[/vc_column_text][/vc_column][/vc_row][vc_row][vc_column][vc_column_text]
There was no way we could help the last two investors in the examples above.
In the second story, the only recourse left for the woman who owned the 100-year-old house was to tear it down and sell the vacant lot. In the last example, we couldn't help this gentleman because our company doesn't specialize in underground storage tank removal and soil remediation.
But many of these perils and pitfalls could have been avoided if the investors had followed a few simple steps!
So here's the short list of 6 tips to avoid the perils and pitfalls of flipping houses:
1. Make a plan! Trying to flip real estate without a plan and the advice of an accountant and a real estate attorney can put your investment at a serious risk before you buy your first property.
2. Take time to network and put a team of professionals together. Get to know them and their work before you start shopping for properties.
3. Don't cut corners! If you don't know how to do a repair, hire a contractor who specializes in that area. If you don't know who to call – refer to tips #1 & #2 above. If you don't do the repairs correctly, it can cost you more than your initial investment.
4. Get good insurance. A specialty policy exists for buildings that are vacant and under construction. And, there are separate policies for building repairs that all licensed contractors must hold to be in business. This is an expense you can afford!
5. Hire the best home inspector you know. Better to know before you close what the problems might be with a property. This is another expense you can afford! It will help to protect your investment – and help you with tip #1 above!.
6. Hire the best real estate agent you can find who knows the rules governing the flipping houses. The last step in flipping a house is actually selling it. Without a competent real estate agent to assist you with pricing, staging, and marketing, your profits can easily disappear while the house sits vacant on the block.
Because we have seen both the good and the bad with investors flipping homes, we are providing a list of professionals we trust and with whom we have worked in the past that can help you put your team together – and ultimately protect your investment!
Remember: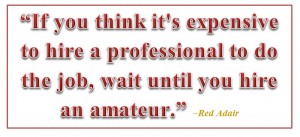 So if you decide to become a "house flipper," beyond needing a great property damage restoration professional like
PuroClean Emergency Recovery Services
, in our Greater Philadelphia and Southern New Jersey region, the professionals we recommend for your team are:
For excellent assessment and inspections of properties before you buy
Call Steve West of Settlers Home Inspections (866)744-3991 http://settlershomeinspections.com
For Real Estate listings and best advice for pricing to sell
Call Pat Philipps with Berkshire Hathaway (856) 816-2219
For all things related to the laws governing the practice of flipping houses
Call Janice L. Heinold, Esq. with Rakoski & Ross, PC (856) 988-0500
For tax information regarding the practice of flipping houses
Call Robert Sagedy, Jr. CPA (856)795-5817
http://www.cpa-center.com/sagedycpa
For best practices and advice about specialty insurance policies for flipping houses:
Call Glenn McCurdy at McCurdy Insurance Agency (856) 461-3636 http://www.mccurdyinsuranceagency.com
Call Jeff Marchitello at Farmers Insurance (732) 608-7320
http://www.farmersagent.com/jmarchitello
[/vc_column_text][/vc_column][/vc_row]
Save