Recently we were contacted by a realtor in Philadelphia. She had a condo unit in a prime real estate area in Philadelphia that she needed to sell quickly.
The only problem was, the previous owner was a smoker. So, the home was filled with a pervasive stale cigarette smoke odor.
The realtor hired a cleaning company to come in to remove the odor. And they did their best.
But the cigarette smoke odor continued to permeate the property.
It was so bad the realtor lost 3 potential buyers because they were put off by the smell.
Not knowing what else to do, the realtor gave us a call.
Upon our initial site visit, we identified the problem immediately.
You see, cigarette smoke goes everywhere.
It lands on everything. And after a smoker moves out, the cigarette smoke smell stays because it's not just on, but inside the walls!
What that means is that a standard "wipe and mop" cleaning just isn't enough to remove cigarette smoke odor.
As a matter of fact, the labor intensive process of removing cigarette smoke odor from properties is one of the reasons that a new federal rule for 2017 prohibits smoking in public housing residences nationwide.
But lucky for this realtor, the previous owner moved out before painting.
Why is that lucky?
Because latex paint forms a plastic-like film on walls. It might look okay. And the property might smell okay for a little while.
But the problem with painting over cigarette smoke before a thorough cleaning is that it seals the odor into the walls.
After that, during the normal warming and cooling cycles of the year, as the property ventilates or "breathes," the pores of the paint open and allow the cigarette smoke smell to come back.
So, after the walls are painted, there's very little that can be done to remove the smoke smell unless you sand the paint off the walls.
So what do we do differently to remove cigarette smoke odor so it doesn't come back?
We follow these 9 Steps To Remove Cigarette Smoke Odor
1. First, whatever you do DON'T PAINT!
Painting only seals in the smoke odor and guarantee it will to rear it's ugly head in the future.
If you're an investor, this could compromise your any home warranty you're offering.
2. To get started, remove all carpet and padding from the house, as well as any draperies and furniture.
This HAS to be done because the tar and nicotine from cigarettes gets into, on, and behind everything. The sticky tars from cigarette smoke are impossible to remove from soft furniture like sofas, or the fibers in carpets.
3. Next, get a couple buckets of warm water. Add a degreasing detergent and scrub EVERYTHING top to bottom.
That means scrubbing ceilings, walls, and floors, inside and outside cabinets, all baseboards and banisters, and every appliance in the kitchen. Make sure you remove every light fixture and shade and scrub these as well.
You know you're doing it right when you see the scrub water stained yellow.
Remember to change the wash water often! If you don't, you'll only spread the sticky mess.
4. Then, let everything dry completely and air the home out for at least 24 hours. And scrub everything a second time.
5. Now, it's time to deodorize behind the walls and all the areas your scrubbing couldn't reach.
This involves applying ozone to the area. Remember, ozone is dangerous to people, pets and plants. You'll need to vacate the building after you seal all the doors and windows. This allows the ozone to completely penetrate all parts of the home.
6. Once the ozone treatment is complete, allow the home to air out again.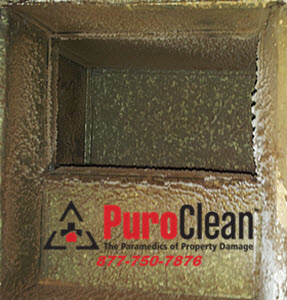 7. After that, if the property has a forced air heating system, it's time to get the ducts cleaned.
DO NOT NEGLECT THIS STEP. If you turn on the HVAC system before cleaning the ducts you'll only blow cigarette smoke odor throughout the home again.
8. Now that you've scrubbed everything twice, ozoned, and cleaned the ducts, it's safe to paint the walls and ceiling.
9.  And finally, it's time to install new carpet and pad.
If it sounds like a lot of work to remove cigarette smoke odor from a property, it is!
But it's the kind of work we do every day. And, we're experts at it. We know what to do in what order, and we have the right equipment to do it. With our technology and expertise, we've helped a lot of realtors and investors get to the closing table fast!
So, if you're a property manager, a realtor, or an investor flipping houses and you know your Philadelphia or Southern New Jersey property needs the professional touch to remove cigarette smoke odor, give us a call at 877-750-7876.