[vc_row][vc_column][vc_column_text]Ah yes, it's Christmas week. Folks are scurrying to wrap that last gift, make that batch of cookies and welcome guests into their homes.
And the kids! They're excited that it's finally Winter break . . .
Memories and stories come flooding back of Holidays past… and the foibles and adventures during the current and previous generations are told and re-told with gusto.[/vc_column_text][/vc_column][/vc_row][vc_row][vc_column width="1/2″][vc_column_text]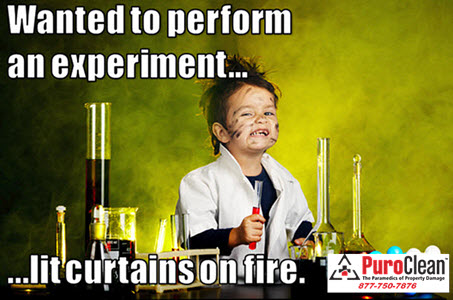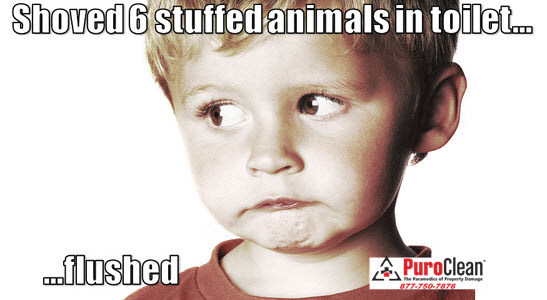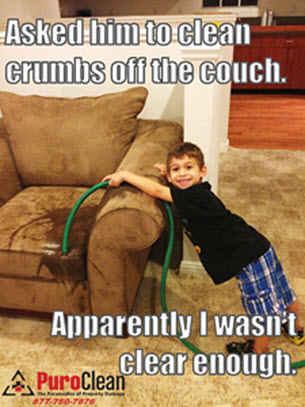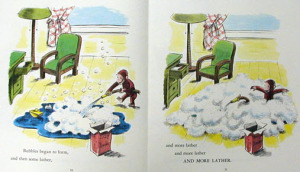 [/vc_column_text][/vc_column][vc_column width="1/2″][vc_column_text]One year my dad got a chemistry set for Christmas. I think he told me he was 12. Being the enterprising young people they were, he and his sister decided to make self-igniting gun powder. With a mortar and pestle. In the basement.
It doesn't take much imagination to guess what happened next. The explosion must have been epic! And the smoke staining the basement walls and the smell of sulfur must have been horrific! But, with a wink and a smile my dad reported it only took him 3 months for his eyebrows to grow back . . .
Fast forward a few years to my own time with 3 small children. We do have a challenge as parents – we don't want to stifle a child's native curiosity or creativity, but we do strive to keep the home safe for them – and everyone else!
What's interesting is that when so many young children see water at their level, whether it looks clean or not, because it's within their reach, they consider it part of their playground. And sending the rubber ducky stocking stuffer from Aunt Suzie down the toilet to play with the brown fishies makes perfect sense when you're three . . . Of course, we didn't know that's what he did until after the toilet had overflowed and water filled the basement. Which was when we found the plastic green army man and legos wedged into the sump pump . . .
And when you're six, the specter of Santa making his list and checking it twice makes you want to be a lot more nice.
So, you take matters into your own hands and decide to help mom get ready for the big day by helping her clean . . . with a garden hose turned on full bore. In the living room. On Dad's favorite chair. . .
So many of the holiday safety tips that come out this time of year focus on adults: avoiding electrocution by installing GFCI circuits, avoiding tree fires by inspecting the wires for possible damage, avoiding kitchen cooking fires and avoiding floods in kitchens from clogged dishwasher drain lines.
And these are all important.
But with all the hustle and bustle, we often forget the potential mishaps that can occur with kids. And, no matter how good a parent you might be, it's not possible to watch them 24 hours a day!
So here's the short list of 2 tips to avoid holiday property damage that might be caused by well-intentioned kids:
1. Keep an inventory! I know this sounds strange, but doing a roll-call at night when you round up the toys will help you know if some have gone missing. If they have, you can casually ask where they might be . . . if your kid's story involves any mention of the toy "hiding" it's time to do a search! Toilets and sump pumps are prime hiding suspects . . .
2. Don't ever read your kids the story "Curious George Gets A Medal." Ever! Although it's a delightful story (and it was one of my youngest son's favorites), George's problem solving skills do indeed involve pulling a garden hose through the window to clean up a mess . . . I mean seriously. Our kids don't need our help or suggestions with things like this. They come up with enough stuff like this on their own.[/vc_column_text][/vc_column][/vc_row][vc_row][vc_column][vc_column_text]Whatever your property damage needs are during this holiday season, remember you've got a friend indeed!
Our business exists to help you and yours to enjoy all the wonders the season has in store.
Whether it's overflowing toilets, flooded basements, or fires, in the Greater Philadelphia and Cherry Hill New Jersey region


PuroClean Emergency Recovery Services
is here for you 24 hours a day, 7 days a
week
877-750-7876

for all your property damage restoration needs!



[/vc_column_text][/vc_column][/vc_row]
Save