COMMERCIAL FIRE DAMAGE RESTORATION
1. You're a property manager for a large national hotel chain.
2. And one of your properties in Center City Philadelphia has an electrical fire creating smoke damage throughout the facility.
3. And the hotel is sponsoring a convention in two days and needs to be in full service – clean and pristine – for the hundreds of attendees?
You call PuroClean Emergency Recovery Services of course!
When the property manager of a Center City Philadelphia Hotel needed expert emergency fire and smoke damage restoration services, they called PuroClean Emergency Recovery Services!
While hundreds of hotel guests waited outside for the Philadelphia Fire Department to make sure the fire was out, PuroClean Emergency Recovery Services crews began the work of smoke and fire damage restoration inside.

While special equipment cleaned the air to ensure air quality throughout the hotel, our dedicated technicians professionally cleaned every table and twelve hundred chairs by hand.
The smell was so much better within hours of us beginning the work.  In fact, it was so much better, the hotel guests were able to return to their rooms and to their vacations.
But the real work of fire and smoke damage restoration continued even after the hotel guests were allowed back in.
We used hundreds of pieces of equipment.  And we worked in several 8 hour shifts.  In a short time, the hotel was back in service, right on time for the convention to convene!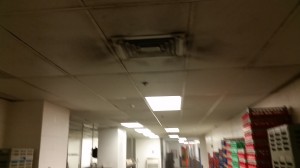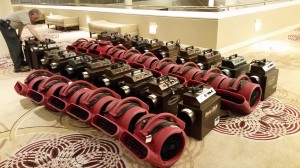 So if you're a manager for commercial properties in the Greater Philadelphia or Southern New Jersey region, and your property experiences damage from fire, smoke, water, or biohazard, you know you can have confidence that the job will be done right and on time with PuroClean Emergency Recovery Services on the job!