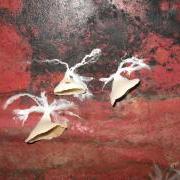 WARNING:
DO NOT USE CHLORINE BLEACH
TO CLEAN OR KILL MOLD
Chlorine Bleach kills bacteria and viruses, but has not been proven effective in killing molds on porous surfaces like wood and drywall. 
Bleach is 94% water.  Water is one of the main contributors of the growth of harmful bacteria and mold.  Attempts to remediate mold using bleach only re-grow and regenerate mold and bacteria – at twice the rate originally found before bleaching.(For more information about the hazards of using bleach see Dr. Mercola's interview with Dr. Jack Thrasher at http://articles.mercola.com/sites/articles/archive/2011/07/30/dr-thrasher-on-the-health-dangers-of-mold.aspx?e_cid=20110730_DNL_art_1)
Chlorine bleach should not be used in mold remediation as confirmed by OSHA's Mold Remediation guidelines.
The object of mold remediation is to kill mold at its "roots."
Effective Mold Remediation disinfects porous wood and drywall while monitoring the safety of indoor air quality.
PuroClean Mold Remediation Protocol
All PuroClean providers are affiliated with the Indoor Air
Quality Association (IAQA) an independent organization
instrumental in developing education programs and
research regarding air quality, health and public safety.
PuroClean adheres to the standard guidelines for mold
remediation as illustrated in:
- The NY City Health Guidelines on Assessment and
Remediation of Fungi in Indoor Environments
- The EPA Guidelines for Mold Remediation in Schools
and Commercial Buildings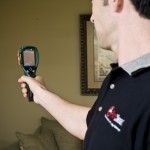 Step 1: Identify Water Source
The first step in any mold remediation, and a crucial step, is to deal with the underlying water situation. Mold is always related to water, so a search for mold will always begin by using professional meters and expertise to look for unwanted water under cabinets or inside of walls, etc. If the source of the water is not fixed, then mold will return regardless of any effort by a remediation company.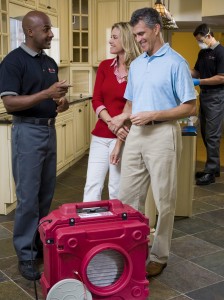 Step 2: Inform Property Owner
The property owner should be offered the opportunity to consult with a qualified Indoor Environmental Professional (IEP) who can help evaluate the situation and who will write the protocol that the remediation professional will follow. It is impossible to determine the type of mold by looking at it. Stacybotrys is black, but so are many other species of mold. If someone wants to know the specific molds present then a sample must be sent to a qualified laboratory for evaluation. The above standards allow the professional remediation company to deal with small areas of visible mold without the necessity of requiring an IEP. When the area of visible mold is larger, then they do require an IEP to be involved in the process.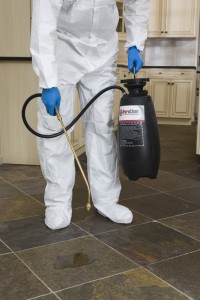 Step 3: Remediate the Mold
For a remediation professional, it is important to treat every mold contamination as a serious matter. Mold should be remediated and the environment returned to a dry state.
Remediation efforts are the same, regardless of the type of mold involved. Remember, the professional is treating all mold as hazardous, so the procedures and processes and safety precautions are the same in all cases.
Step 4: Clearance Test
At the end of every mold remediation, regardless of the size of the restoration, an air sample should be taken by a qualified mold testing company and sent to a laboratory for analysis. The reasonable standard that is normally used to evaluate the sample is that the mold counts by "less than outdoors." Since we live in an interactive world and the "outside" comes in every time we open the door, the fact that our remediation area is less than the outside indicates that the remediation was successful.
Tweet